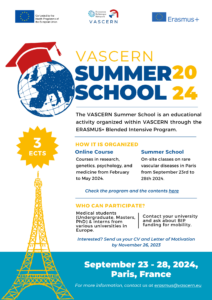 Are you interested in learning more about rare vascular diseases? We are pleased to invite you to apply for the 1st edition of the VASCERN Summer School, a unique educational event that promises to deepen your understanding of these complex diseases. This enriching experience will empower the younger generation of healthcare professionals to make a real difference in the field of rare vascular diseases.
When and where? The 1st edition of the VASCERN Summer School funded through ERASMUS+ and VASCERN will take place from September 23 to 28, 2024. This immersive learning opportunity will follow a hybrid format, combining on-site classes in Paris with a mandatory online course.
What to expect? At the VASCERN Summer School, you can expect a comprehensive program covering a wide range of topics related to rare vascular diseases. Our experts and patient representatives will provide valuable insights into various aspects, including diagnosis, treatment, research and patient care.
Key Highlights:
Insightful lectures: Engage with leading experts who will share their knowledge and experience, offering fresh perspectives and the latest updates in the field.
Role Plays: Participate in role-playing with patients and doctors to learn how to communicate a diagnosis effectively.
Patient-Centered Approach: Learn from patient advocates about the unique challenges and needs of people living with rare vascular diseases.
Networking Opportunities: Connect with fellow participants, experts, and patient representatives fostering a supportive community dedicated to improving the lives of patients.
How to Apply Application details and the program can be found on the official VASCERN Summer School website here.
Don't miss this incredible opportunity to expand your knowledge and make a positive impact on the rare vascular disease community.