VASCERN Summer School – ERASMUS+
In 2024, VASCERN will organise its 1st edition of the European Summer School on rare vascular diseases. 
⦿ How is it organized?
The organization of the VASCERN Summer School has received financial support from the ERASMUS+ Blended Intensive Program (BIP). The BIP requires the combination of physical mobility with a virtual component. Therefore, the VASCERN Summer School will consist of a part on site and a part online. The full course is equivalent to 3 ECTS. All courses will be taught by our experts in rare vascular diseases and patient representatives.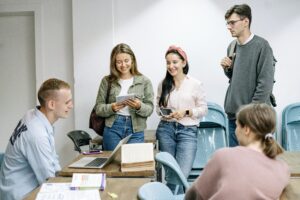 Source: Photo by Ivan Samkov 
⦿ When and where will it take place?
The online module of the VASCERN Summer School will last for a total of 15 weeks, from February 5 to May 17, 2024.
The on-site part of the VASCERN Summer School will take place in Paris from September 23 to 28, 2024.
⦿ Can I participate? If yes, how do I apply?
If you want to learn more about rare vascular diseases and you are a medical student (undergraduate, masters or PhD level) or an intern at a European university, you are eligible to participate in the VASCERN Summer School.
If you would like to apply, please send your updated CV and a letter of motivation to erasmus@vascern.eu before November 26, 2023. A selection committee consisting of rare vascular disease experts and VASCERN patient representatives will review your application. The results of the selection process will be communicated before Christmas. If you are selected, you will need to contact your university to complete the learning agreement and receive information on how to obtain the mobility grant.