We are happy to report that the EJP RD – European Joint Programme on Rare Diseases ERN Workshop – Advances in diagnostic and therapeutic methods for lymph flow abnormalities took place this month from September 9-10th, 2021.
It was hosted by Dr. Willemijn Klein (Radboud University Medical Center Nijmegen), member of the Vascular Anomalies Working Group (VASCA WG), grant recipient of the first EJP-RD Research Training Workshop Call. Originally planned to take place in-person in the Netherlands, it was finally held online due to COVID-19 travel restrictions. This allowed 45 participants and presenters to connect from more than 10 countries with participants also being members of several ERNs including VASCERN (from the VASCA and Pediatric and Primary Lymphedema (PPL) working Groups), ERN EURACAN, ERN Ithaca, ERN Rare-Liver; ERN-RND and more.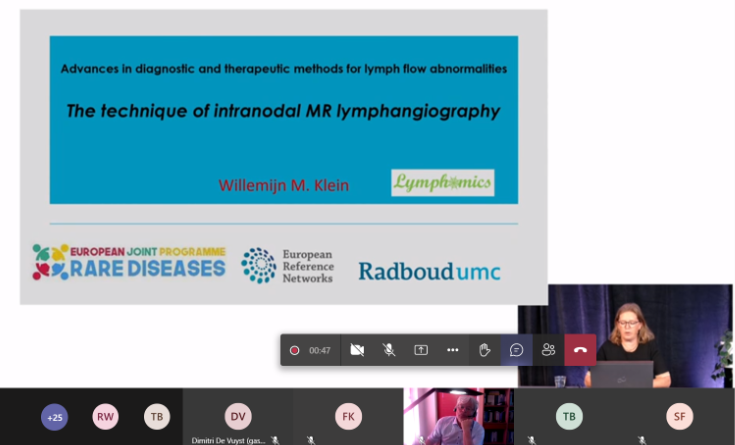 The first day dealt with the topic of diagnosis of central lymph flow disorders starting with a historical overview of lymphology, symptoms of central lymphatic disease as well as a presentation by Professor Leo Schultze Kool (VASCA WG Co-Chair and Registry WG Chair) on the current issues in lymphagiography and how the VASCERN registry could be a tool for future research in this domain. Next the various lymphangiography and imaging techniques were explored with case studies examined and Dr. Robert Damstra (PPL WG Chair) gave a presentation on the diagnosis of primary lymphedema.
The second day's presentations focused on therapy for central lymph flow disorders including embolization and venolymphatic anastomosis as well as non-invasive and medical treatments. Aaike van Oord (ePAG patient advocate for VASCA) gave the patient perspective of searching for a diagnosis and treatment for these very rare diseases. This was followed by an interactive session where participants interpreted lymphangiography through a series of case studies. The workshop ended with a ten question quiz representing all of the items of central flow disorders covered over the past two days. We congratulate Dr. Klein and the EJP-RD for a very successful workshop and look forward to future research collaborations involving the innovative techniques covered!
As a reminder, the EJP-RD has calls for applications for the ERN Research Training Workshops funding opportunities on a regular basis. The next call is open until October 4th, 2021, so submit your ideas now! All information can be found here: https://www.ejprarediseases.org/ern-research-training-workshop/