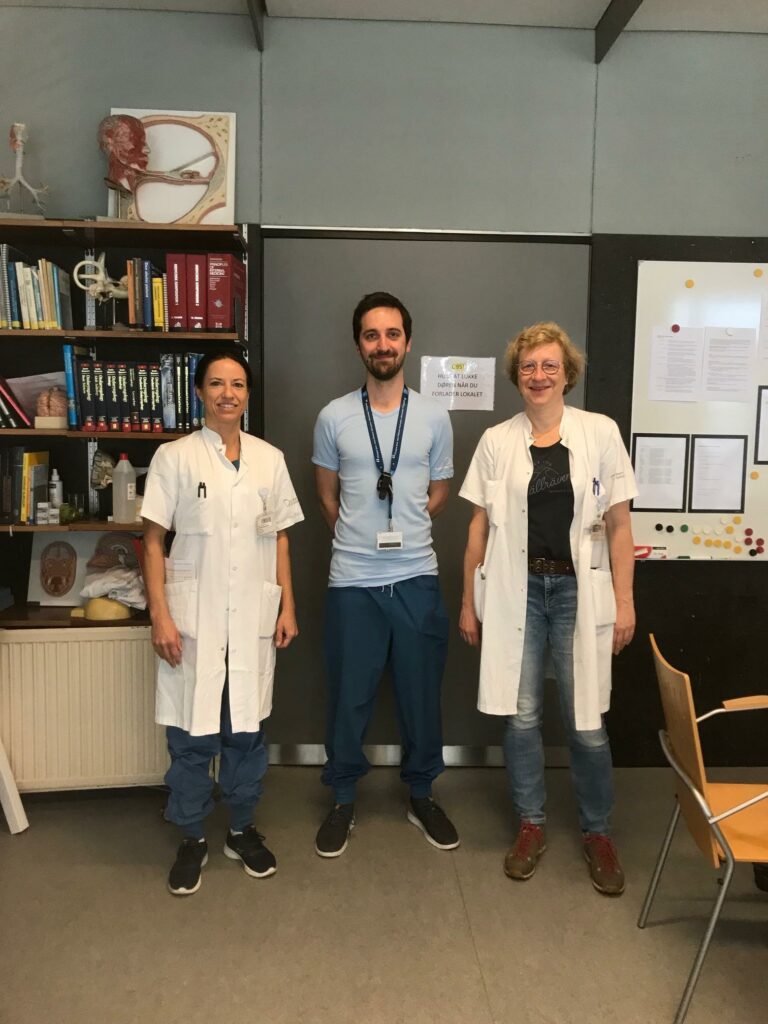 In our first VASCERN Exchange Program interview, we are thrilled to interview Dr. Ruben Hermann from the CHU de Lyon HCL, GH Est-Hôpital Femme Mère Enfant in Lyon, France. Dr. Ruben Hermann is a member of the Hereditary Haemorrhagic Telangiectasia Working Group (HHT-WG). In this article, he shares what were his goals for the exchange program, and the new discovery and lessons learned during it. This exchange program was done at the Odense University Hospital in Odense, Denmark with Prof. Anette Kjeldsen.
1) What is your medical specialty?
I am an ENT surgeon.
2) What were your goals and expectations for the exchange program?
My main goal was to benefit from Prof. Kjeldsen's experience and expertise in the field of HHT, which she has been working in for over 10 years now. She has consultations with many patients and does treatments in HHT. Since I have only been working in the HHT field for four years, this exchange would help me expand my knowledge and experience in this field.
3) What activities did you participate in during your exchange program?
Prof. Kjeldsen did a great job organizing the program. I was involved in patient consultations, case discussions, surgeries on HHT patients, and outpatient treatment. One of Prof. Kjeldsen's colleagues, Dr. Bibi Lange, is also specialized in HHT, and I was able to follow her consultations as well. Prof. Kjeldsen is the main contact person in Odense and across Denmark for patients with HHT who need treatment. Patients come to her for screening and treatment, and she also manages the ENT section. This is different in Lyon since Dr. Sophie Dupuis-Girod is the contact person for the patients, and is in charge of screening and treatment, whereas I am in charge of the ENT-related problems. It was a good opportunity to be involved in the other parts of patient care asides from ENT.
4) Were there any challenges you faced during the program? If yes, what were they?
No. The language barrier could have been a challenge but many of the patients and healthcare professionals spoke and understood English very well.
5) What is something new that you learned/discovered during your exchange program?
Prof. Kjeldsen performs laser treatment during the consultations without the need for an operating room or general anesthesia. This requires trust from the patients and expertise from the doctor. In France, I would do these procedures under anesthesia in an operating room. One of the most invasive treatments that can be done for nosebleeds in HHT is the surgical closure of the nose, called Young's procedure. I had never met a patient in France who had undergone this operation but I was able to meet one in Odense. I was also able to observe Functional endoscopic sinus surgery on patients with HHT during my stay in Odense. This type of surgery does not specifically address problems related to nosebleeds but is significantly more complex in patients with HHT due the increased risk of bleeding.
6) How will your experience from the exchange program improve your contributions to VASCERN?
The exchange program has helped me build confidence to try some of the same procedures I was able to observe during my stay. This will also help me gain more expertise over time and level up to the other ENT surgeons at VASCERN.
7) How would you describe your exchange program in one word?
"Enlightening"
8) Any other comments?
The exchange program promotes more trust and togetherness within the working group. It could also be a starting point to exchange ideas for collaborative research. I would recommend the exchange program for young healthcare professionals in VASCERN; it would be very beneficial.