World Lymphedema Day, March 6th, 2021 was celebrated across Europe with a remarkable collaboration among patient associations in Europe. Twenty-seven patient associations collaborated to co-sign a manifest, translated into 11 languages, to express their views and wishes for patients living with lymphedema. A group of associations went further by creating a short survey, to collect information to understand the struggles European patients and carers experience to obtain an essential treatment modality, the compression garments. An amazing 1102 patients and carers responded and based on the written comments made by 59% of the respondents, three main common denominators in their struggles were found across Europe: financial reasons, measurement and fitting, and prescription process.
Internationally, the manifest and survey results were shared by the patient associations, organisations they collaborate with, and patients themselves via e-mails, social media, membership magazines and on the websites of the associations. Via these projects the associations have understood how valuable and essential European collaboration is to reach their common goals to improve the lives of those living with lymphedema.
If you would like a copy in your national language, please contact any of the PPL patient organisations in VASCERN's European Patient Advocacy Group (ePAG) community.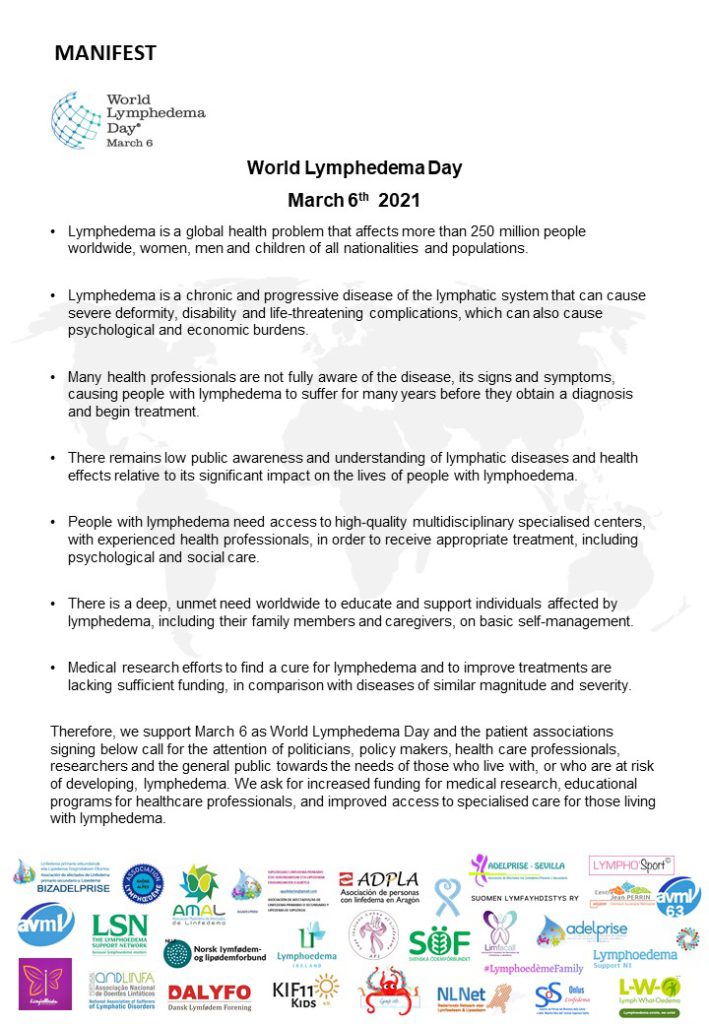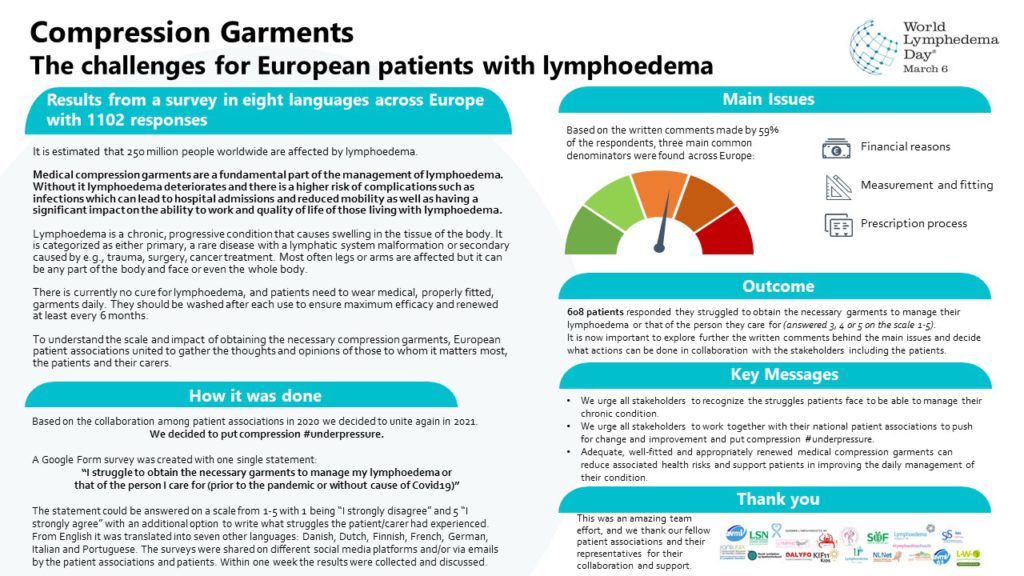 The patient advocates and patient organisations in the VASCERN ePAG community have all contributed in one way or another to raise awareness of lymphedema and support patients and carers the whole month of March. You can read some examples of their contributions below.
Italy
During the night between the 5th and the 6th of March, the Mole Antonelliana in Torino was lit in green with a logo of two legs, one with green compression stocking and the words "Giornata mondiale del linfedema". The logo was created by Elisa Freda, a patient with primary lymphedema from the region of Piedmont. Patients, their families, and members of Lymphido Onlus, along with Elena Matta, our Italian ePAG patient advocate, were present to celebrate.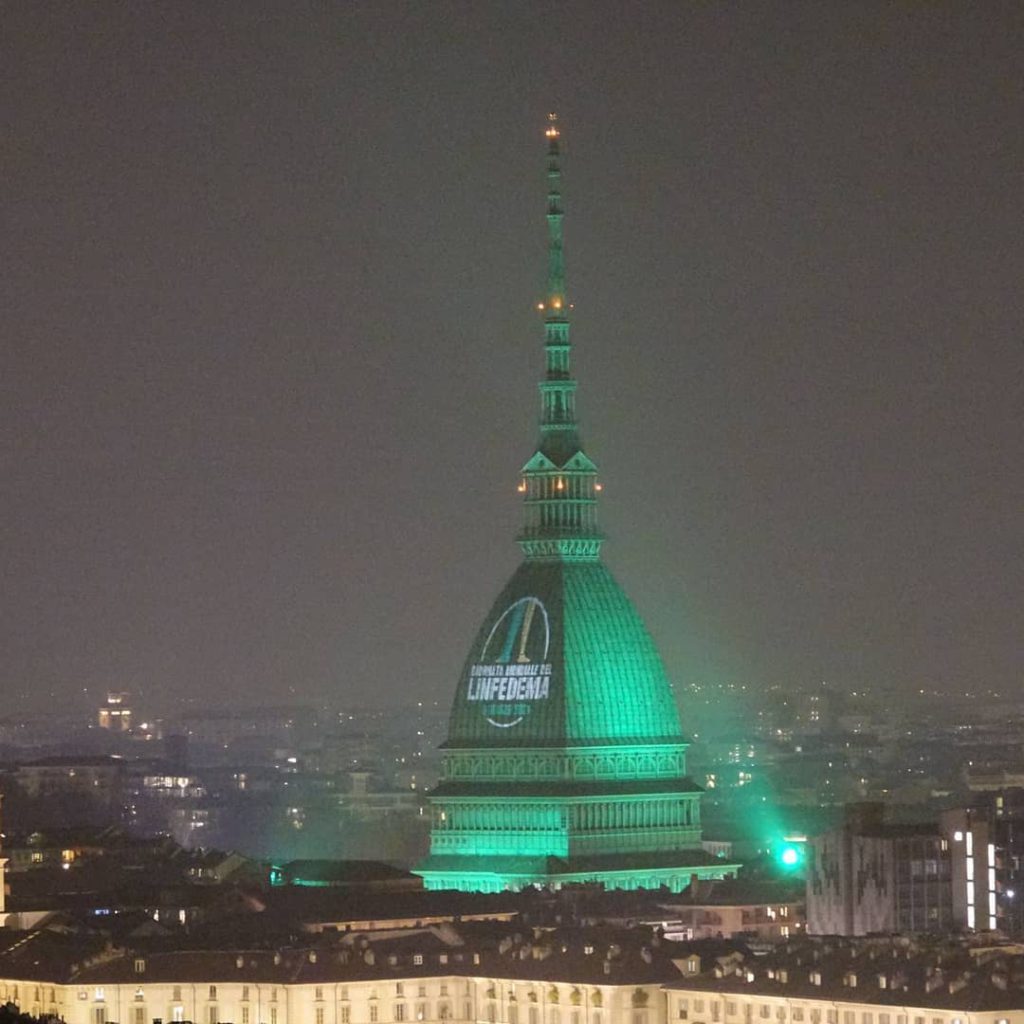 On the morning of March 6th, 150 participated in the webinar "Sport and lymphedema – what is possible?". Experts in sports medicine, physiotherapists and doctors all explained different positive aspects of physical activity. Patients, including Elena Matta, shared their testimonials on how they exercised and what benefits it had not only on their lymphedema, their overall physical health but also their mental health. The main message was to never give up on your passion, to pursue the activities you love – with the support and guidance from competent clinicians. A detailed summary of the webinar can be found in English here and in Italian here.
Chiara Giovannucci Orlandi, chair of Lega Italiana Lotta al Linfedema Aps presented at a webinar organised by Policlinico Universitario A. Gemelli, Rome, with an estimated audience of between 350-500 people. She described the current situation for patients in Bologna, presented the association and informed everyone about their new collaboration with the PPL ePAG community in VASCERN, as new members. The president and CEO of the Lymphatic Education & Research Network Mr. William Repicci sent a virtual message from America to greet everybody and wish the participants a happy world lymphedema day.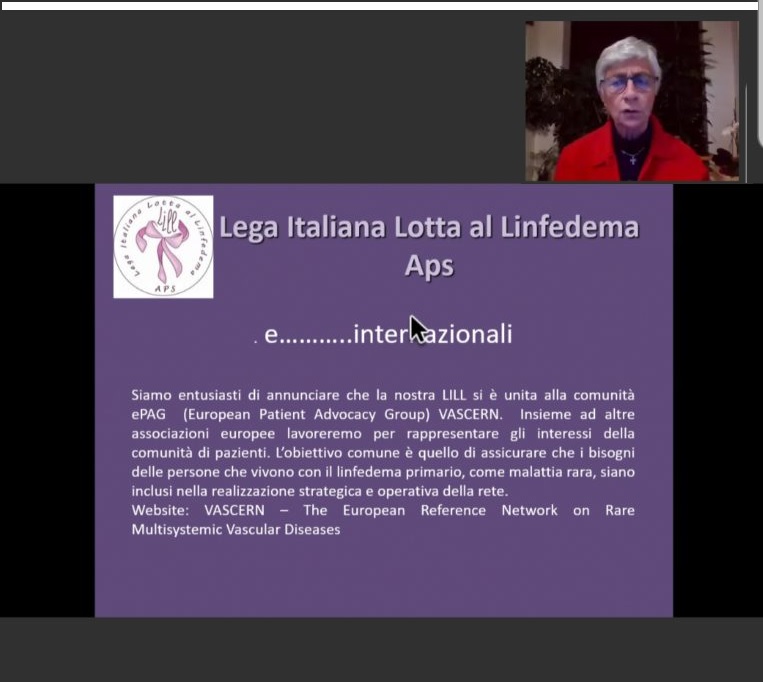 Portugal
The ePAG representative from Portugal and VASCERN's ePAG deputy co-chair for PPL, Manuela Lourenco Marques, co-hosted a VASCERN webinar on "Infections and Lymphedema" with a presentation by PPL WG members Dr. Kirsten van Duinen and Dr. Tanja Planinšek Ručigaj. The ePAG co-chair for PPL, Pernille Henriksen, hosted the Q&A session at the end. The patient advocates in the PPL working group had ensured that the webinar was based on questions and concerns raised by patients and covered the signs and symptoms, treatments, risk factors and how to reduce risks of cellulitis. The recording is now available on VASCERN YouTube channel. here.
andLINFA, the Portuguese patient association, also hosted an online exercise class on the morning of March 6th in order to ensure patients continue to stay active during the Covid19 lockdown in Portugal.
Banner posters, as part of an exhibition at the Santa Maria Hospital in Lisboa, informed those who visited the hospital about lymphedema.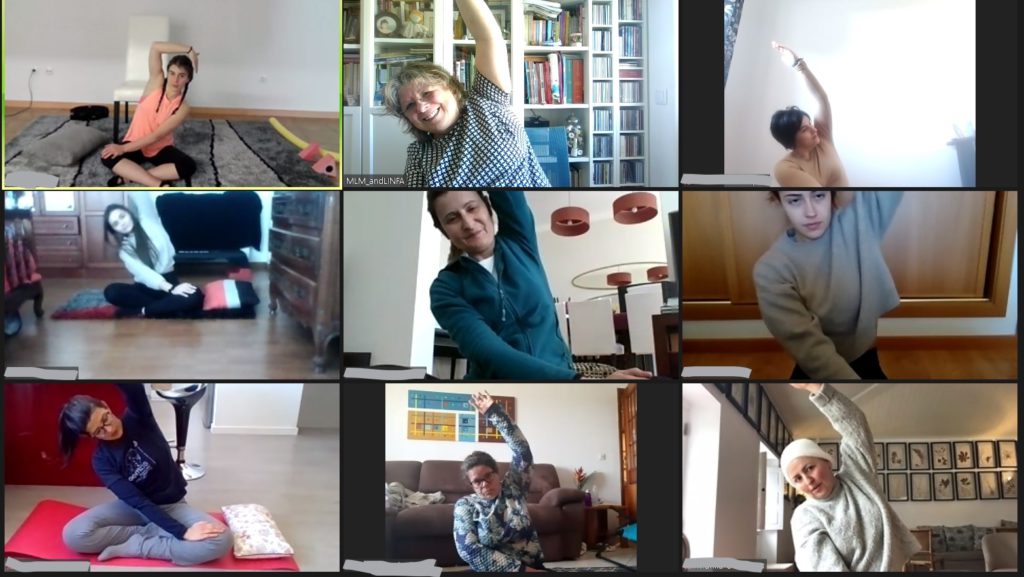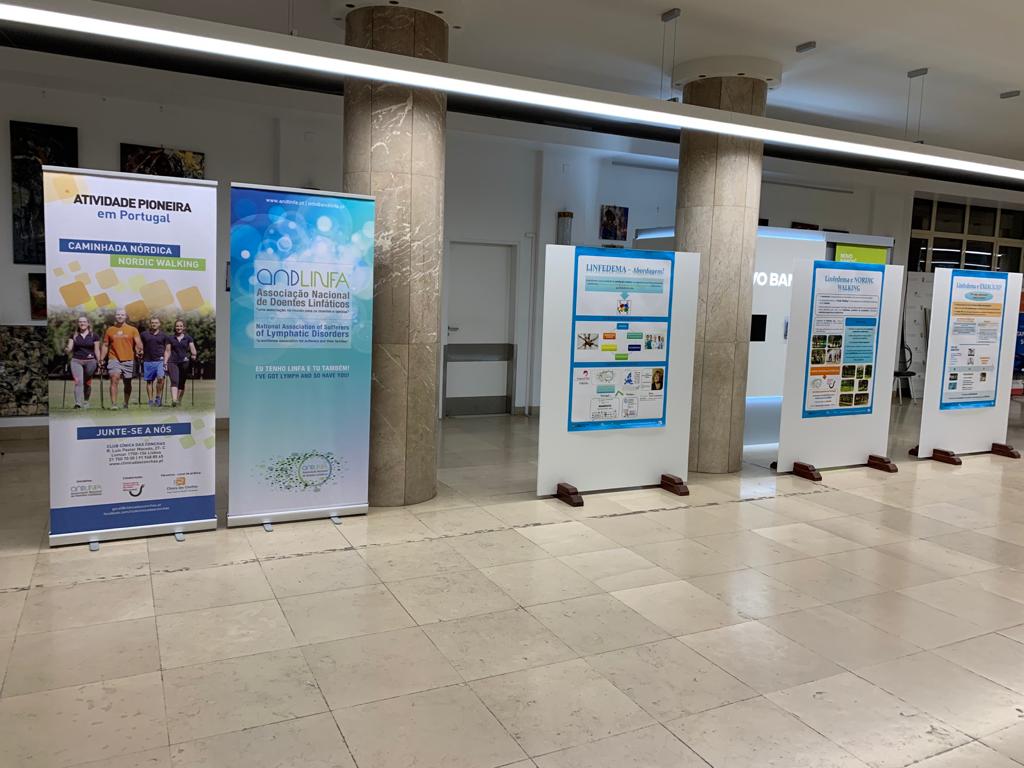 The Netherlands
Our Dutch ePAG representative, Eline Hoogstra, created a social media campaign involving the Dutch patient association NlNet, the PPL WG Healthcare Provider Nij Smellinghe hospital, NVH (Dutch association of skin therapists), NVFL (Dutch association of physio- and oncology therapists) and Huidfonds (Dutch non-profit organisation for skin disorders). She collaborated with them to ensure they shared the same messages, the manifesto, and the survey results already mentioned, on or around March 6th with their members and followers on social media. With close to 27.000 combined views across Facebook, LinkedIn, Instagram, and Twitter, we believe the campaign was successful in reaching many different stakeholders. Pascal Dutour Geerling, a Dutch patient with primary lymphedema, created a short video with the main messages of the survey, which was shared by many of the associations and patients (watch it here).
Germany
Our German ePAG patient advocate, Carina Mainka, chair of KIF11 e.V. has created a Pills of Knowledge (PoK) video on the subject of "Genetic Testing for Primary Lymphedema". Carina explains in the short video why genetic testing of her son was an important step in the diagnosis and for further treatment of her son. The video reflects the recommendations from the PPL "Do's and Don'ts", has subtitles in 12 languages and will be released on the VASCERN YouTube channel soon!
A new Facebook group dedicated to families with children with any type of lymphedema was launched on March 6th. German families and carers are invited to join the group to connect and share their experiences with each other. You can find it on Facebook at: "Lymph-Kids – Unsere Kinder leben mit einem Lymphödem"
Denmark
In Denmark, the chair of the Danish Lymphedema Association (DALYFO) was interviewed and on the front cover of a weekly women's magazine. Birgitte Slot, who has secondary lymphedema from breast cancer, explained how she was living with the after effect of cancer treatment, thus raising awareness of lymphedema and the association with the more than 300.000 weekly readers. A version of the article in Danish can be found online here: Min plan er at leve mit liv (familiejournal.dk)
Focus this year was also to highlight the work of the association with information to engage in discussions with members and non-members on the different areas of improvement for the patients.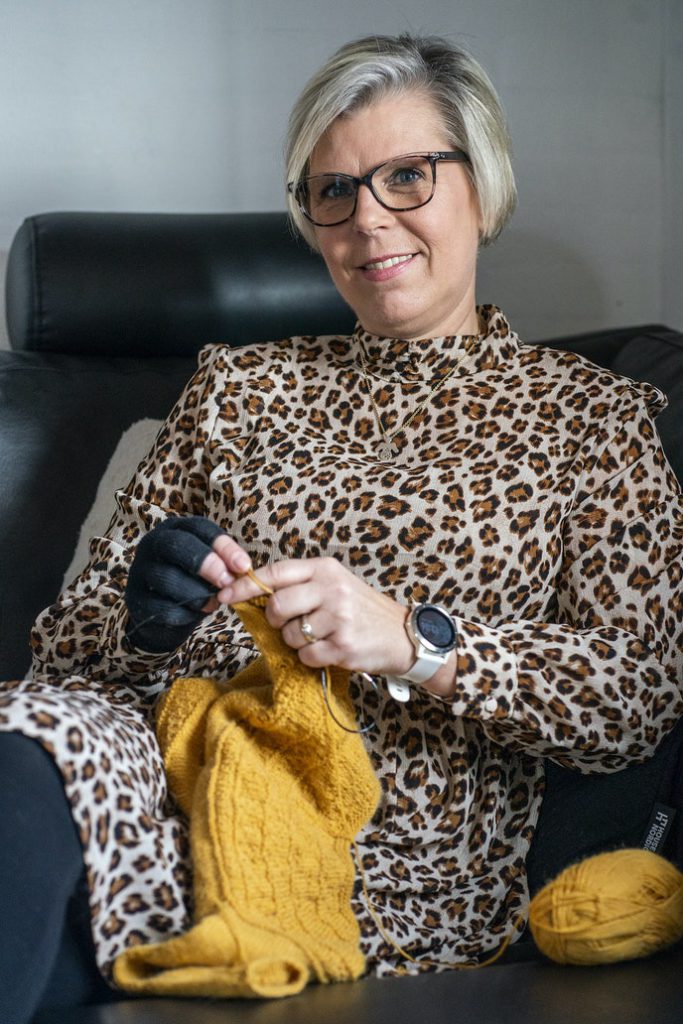 England
Since any form of public events has been banned in the UK due to the pandemic "L-W-O Community" ran a successful online campaign with their collaborator, Mary Fickling, company director, PhysioPod UK. " "Healthy Steps" supported the campaign by producing six 'get moving' videos aimed at those who have mobility problems. Every day of the first week of March a newsletter was sent out with helpful links to videos, articles, and interviews on lymphedema, along with support messages and testimonials. The newsletters can be viewed here.
Lymphoedema Support Network (LSN) was supported by Professor Peter Mortimer, a lymphedema expert from St. George's University Hospital, to raise awareness and appeal for donations via the BBC Radio 4. Prof. Mortimer explained what lymphedema is and how important the helpline of the LSN had been (and still is) during the Covid-19 lock down with the closure of clinics caring for patients with lymphedema. You can still listen to his appeal via the link here.
France
The French patient association "AVML" collaborated with "LymphoSport" to create daily informative posts for their social media platforms counting down from February 24th to March 6th. These included "Do you know what lymphedema is?", "How many people live with lymphedema?", "Do you exercise with or without compression?". On the 6th of March a video with friendly messages from members of the board, patients and family members was published across the platforms. In total the messages had views of 18.000 via these channels.
A Nordic walking workshop "Lympho'Marche" in Paris was planned but due to Covid19 restrictions this was cancelled. Unfazed by this, Eleonore from LymphoSport, who has secondary lymphedema, and Clara, a volunteer from AVML, got together to create an informative video with several tutorials to encourage patients to try Nordic Walking at home. Watch it here.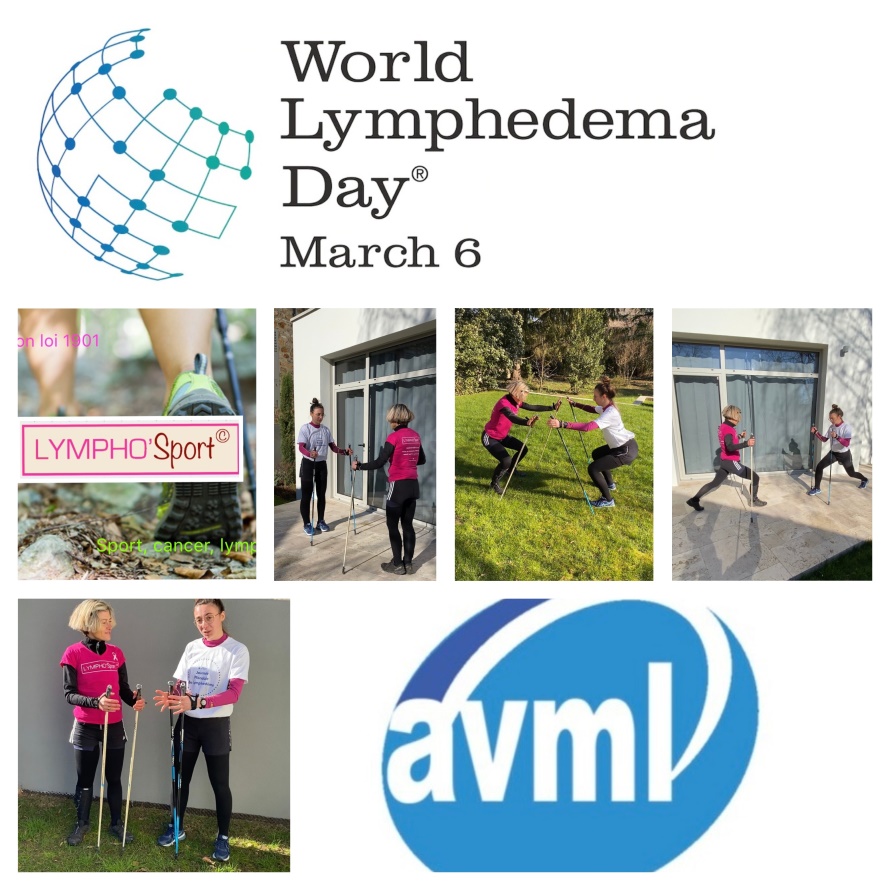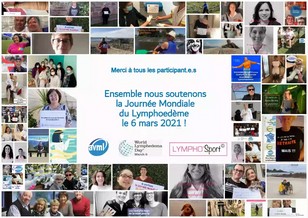 Sweden
On March 6th the Swedish patient association, Svenska Ödemförbundet, hosted a webinar with Professor Taija Mäkinen, a member of the Royal Academy of Sciences, with the title: "The lymphatic system in health and disease" and can be viewed on their website.
A short informational video on lymphedema was created and shared via a news platform in Sweden and viewed by more than 24 000 people. This particular platform was chosen to ensure that the general public was made aware of the signs and symptoms of lymphedema in a very easy to understand way thus encouraging quicker diagnosis. The video can be viewed here.
The video, manifest and result of the survey was sent to politicians, educators, decision-makers and health care institutions responsible for cancer rehabilitation and lymphoedema rehabilitation in Sweden.
Norway
In the NLLF members magazine, Lymfeposten, distributed to 2500 members and more than 700 collaborators in Norway, information was shared about the collaboration with the other European patient associations. Not everybody is on social media, and a printed magazine not only reaches this patient population, but it can also be used to increase awareness with the selected health care personnel and public stakeholders it is sent to.
A webinar was organised and hosted by the founder of the Scandinavian Forum for Lymphology in Oslo, physiotherapist Helen Olsen. Her presentation called "Norway's Gold Standard" emphasized how far Norway has come offering free and regularly prescribed compression garments for those living with lymphedema.
Finland
The newly founded Finnish patient association, "Suomen Lymfayhdistys ry", hosted a webinar on "Lymphedema self-care and support group" with a presentation by a physiotherapist and lymphedema specialist Maarit Helenius and hosts Sara Neggazi, with primary lymphedema and Annemarie Müller, with secondary lymphedema. During the month of March, Sara also attended the "Rare Diseases fair" organised by the Finnish rare disease network "Harvinaiset-verkosto" and was invited as a guest speaker at the Finnish lymphedema therapist associations "Suomen Vodder-terapeutit" and "Suomen Lyko-terapeutit" presenting the association and the results from the survey previously mentioned.
All in all March was a busy but very productive month and the patient associations managed to reach thousands of patients and stakeholders as well as the general public across Europe, thus raising further awareness of lymphedema!
We thank ePAG Co-Chair for PPL, Pernille Henriksen, for compiling all of the contributions and photos for this article.