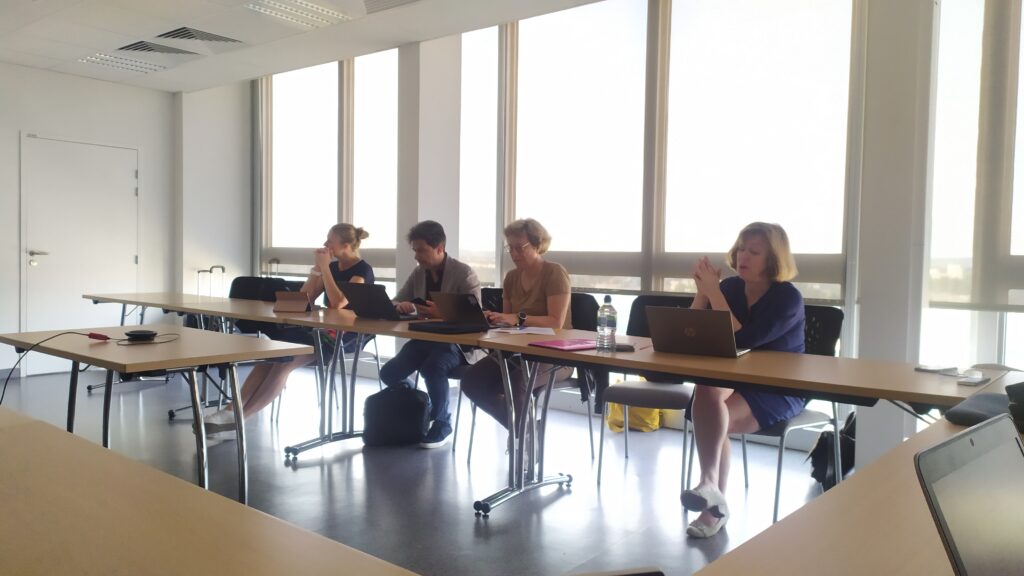 The Hereditary Haemorrhagic Telangiectasia Working Group (HHT WG), chaired by Dr. Sophie Dupuis-Girod (HHT WG Chair), had their Spring meeting in Lyon and online on May 20th, 2022. It was attended by 15 Healthcare professionals, the European Patient Advocacy Group (ePAG) Co-Chair, Claudia Crocione and Deputy Co-chair, Christina Grabowski as well as other invited guests.
Professor Elisabetta Buscarini (HHT WG Co-Chair) led the group through an update on post-COVID-19 activity from each of the centres. Following that, two new members who were online gave a brief introduction on their work and expertise on HHT. The group addressed the most recent updates to the CIROCO HHT Registry, followed by a display of the database. Consent forms and data access policies for the registry were also discussed.
The ePAG Co-Chair presented a proposal for the Pills of Knowledge for teens. There was an open discussion among patient advocates and healthcare professionals, that ended with an agenda for the next steps in finalising this project. A psychiatrist from the Hospices Civils de Lyon's expert center for HHT joined the group to discuss a new quality of life questionnaire specialized to HHT. The group then went over educational material for the moodle e-learning platform and discussed possible translations into different languages.
A time window was set aside for responding to reviewer comments on an HHT manuscript submitted for publication in the European Journal of Medical Genetics, which included contributions from both healthcare professionals and patient advocates. The preparation of an abstract for the 14th HHT meeting was also discussed. VASCERN Project Manager delivered a brief update on VASCERN summer school for 2023, a new hiring for VASCERN, and consent forms for webinars and pills of knowledge.
The meeting concluded with group discussions and a review of the Contraception, Family Planning, and Sexuality questionnaire for HHT patients. Unfortunately, there was no time for case discussions, but the group plans to have them in future meetings.
Overall, the HHT Spring meeting was quite productive, with many outstanding concerns being addressed and next steps being made. We commend the team on their drive and commitment!