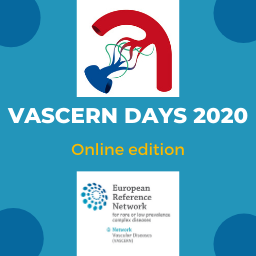 Due to the COVID-19, VASCERN's annual seminar, VASCERN Days 2020, will take place online from October 22-24th, 2020!
This year, we will come together using the Whova event app and Webex for our virtual meeting sessions.
We look forward to welcoming our participants to this online 3-day seminar! Currently we are expecting 76 Healthcare Provider (HCP) representatives, 12 representatives from our 7 Affiliated Partners and 22 European Patient Advocate Group (ePAG) patient advocates, as well as 35 invited stakeholders representing DG SANTE (European Commission), FAVA-Multi (The French Network for Rare Vascular Diseases), Eurordis, members of our VASCERN Registries Project team, EJP-RD, the French Ministry of Health, AP-HP Bichat Hospital and more!
Access the full, detailed program here
An overview of the agenda for this 3-day online seminar can be seen below:
Day 1: Thursday, October 22nd
8.45-12.05 VASCERN ANNUAL BOARD MEETING
9.00-9.20 VASCERN's Management & Coordination
9.20-9.35 VASCERN's Enlargement & Cooperations
9.35-9.45 Inter-ERN Working Group on Legal & Ethical Issues and Relations with Stakeholders: cooperation with the industry
10.00-11.00 Work Packages
10.00-10.35 Implementation (7' per RDWG Chair)
10.35-11.00 Q&A, sharing best practices & inter-RDWGs projects
11.00-11.15 Q&A and approval by the Board
11.30-11.45 European Patient Advocacy Group (ePAG) views, projects & new developments, including Q&A
11.45-12.05 Clinical Patient Management System (CPMS)
13.00-16.00 RARE DISEASE WORKING GROUPS – PARALLEL SESSIONS
Including 14.30-16.00: RDWGs CPMS clinical case discussions (clinicians only)
16.00-16.15 Council meeting (Chairs only) to select the 5 topics for the Day 2 Brainstorming plenary session
Day 2: Friday, October 23rd
 8.30-9.00 Research: European Joint Programme on Rare Diseases (EJP RD): calls and opportunities & Q&A
9.15-9.45 VASCERN's Registry WG
10.00-11.00 Brainstorming on 5 strategic topics selected by the RDWGs (12'by topic, each topic discussion moderated by the Chair of the RDWG)
11.45-12.15 Pregnancy Working Group chaired by Julie De Backer
13.00-16.00 RARE DISEASE WORKING GROUPS – PARALLEL SESSIONS, including interRDWG sessions
16.00-16.30 Board plenary: RDWGs'sessions summary outcomes & introducing the way forward (6' per RDWG)
Day 3: Saturday, October 24th
 9.00-12.00 PPL & VASCA WORKING GROUPS – PARALLEL SESSIONS
PPL: CPMS Clinical Case Discussions (clinicians only)
VASCA: Implementation of Work Packages
 12.30-13.30 – European Patient Advocacy Group (ePAG) separate wrap-up