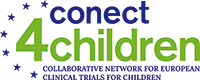 C4c is hosting an online webinar on 28th April from 6pm to 7:30 pm CET.
This webinar is open to all patients and patient representatives who are interested in finding out more about the c4c project and how to get involved in it!
To attend this webinar – register here!
The main objective of this webinar is to explain how patients have been engaged within the c4c project, further opportunities for engagement, and to share experiences and feedback with the participants.
To find out more about the work c4c is doing to involve patients click here.
The webinar will be in English and will be recorded and published on the c4c website.