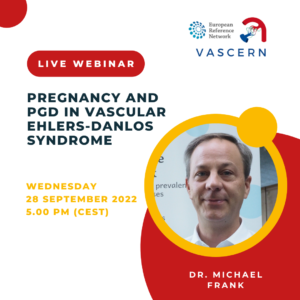 VASCERN will hold a webinar on Wednesday September 28th, 2022 from 5-6 PM (CEST) titled: Pregnancy and PGD in Vascular Ehlers-Danlos Syndrome.
It will be presented by Dr. Michael FRANK, Consultant Cardiologist from AP-HP Hôpital Européen Georges Pompidou, Paris, France (full member) of the Medium Sized Arteries Diseases Working Group (MSA-WG).
This webinar will consist of a scientific presentation followed by a question and answer session. It is directed towards patients with Vascular Ehlers-Danlos Syndrome (vEDS), but open to all interested.
Register here