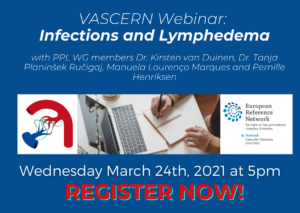 VASCERN will hold a webinar on Wednesday March 24th from 5:00-6pm CET on the topic of Infections and Lymphedema with Pediatric and Primary Lymphedema Working-Group (PPL-WG) members Dr. Kirsten VAN DUINEN, Dr. Tanja PLANINŠEK RUČIGAJ, Manuela LOURENÇO MARQUES (ePAG Deputy Co-Chair for PPL) and Pernille HENRIKSEN (ePAG Co-Chair for PPL).
Please register to join here!
This webinar will include an informative presentation followed by a Q&A session, featuring questions collected from the PPL patient community! Don't miss it!