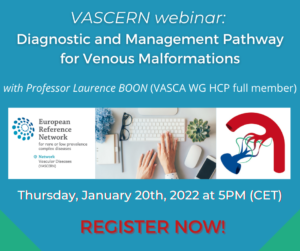 VASCERN will hold a webinar on Thursday January 20th, 2022 from 5pm to 6pm (CET) entitled: Diagnostic and Management Pathway for Venous Malformations with Professor Laurence BOON, plastic and reconstructive surgeon from Cliniques universitaires Saint-Luc, Brussels, Belgium.
This will be the the third of a series of four webinars exploring the Patient (Diagnostic and Management) Pathways created by the Vascular Anomalies Working Group (VASCA WG).
This webinar, that will consist of a scientific presentation followed by a question and answer session, will be primarily directed towards physicians who would like to learn more about these pathways in order to improve their knowledge on these rare vascular anomalies – but all interested participants are welcome to attend!
Register here