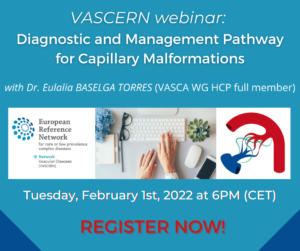 VASCERN will hold a webinar on Tuesday February 1st, 2022 from 6-7 PM (CET) entitled: Diagnostic and Management Pathway for Capillary Malformations with Dr. Eulalia BASELGA TORRES, Pediatric Dermatologist from Hospital Sant Joan De Déu, Barcelona, Spain.
This will be the the fourth and final of four webinars exploring the Patient (Diagnostic and Management) Pathways created by the Vascular Anomalies Working Group (VASCA WG).
This webinar, that will consist of a scientific presentation followed by a question and answer session, will be primarily directed towards physicians who would like to learn more about these pathways in order to improve their knowledge on these rare vascular anomalies – but all interested participants are welcome to attend!
Register here