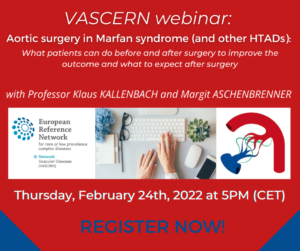 VASCERN will hold a webinar on Thursday February 24th, 2022 from 5pm to 6pm (CET) entitled: VASCERN Webinar: Aortic surgery in Marfan syndrome (and other HTADs): What can patients do before and after surgery to improve the outcome and what to expect after surgery. 
Presenters include Professor Klaus KALLENBACH, cardiac surgeon from Centre Hospitalier de Luxembourg, Luxembourg (Affiliated Partner member) and members of the Heritable Thoracic Aortic Diseases Working Group (HTAD WG), and Margit ASCHENBRENNER, Patient Advocate for the HTAD ePAG (Marfan Initiative Österreich).
This webinar will consist of a scientific presentation followed by a question and answer session with questions collected from the HTAD patient community. It is therefore directed towards patients with Marfan syndrome  and other HTADs, but open to all interested.
Register here