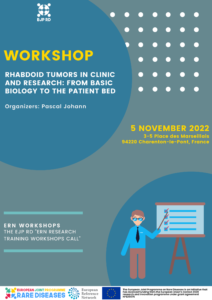 In the context of EJP RD's ERN Workshops, a face-to-face workshop entitled "Rhabdoid tumors in clinic and research: From basic biology to the patient bed" aimed at discussing the current clinical standard of treatment in rhabdoid tumors, as well as the controversies in the rhabdoid tumors regimen is being organized by Dr. Pascal Johann of the Universitätsklinikum Augsburg.
The in-person event will take place on November 5th, 2022 in the Hotel Novotel at 3-5, Place des Marseillais in Charenton-le-Pont.
Registration is open here, and closes on July 31st. Those selected to participate from among the applicants will be informed by August 15th of their selection.
The workshop is open by prior registration and selection to both PhD or Master students from the life sciences and MD students or residents, although advanced-stage PIs or physicians with more extensive clinical experience are invited to join. All participants must be affiliated to an ERN Full Member or affiliated Partner institution.
The training workshop is free of charge and the training methodology will be based on working in small groups, each one dedicated to a specific question in rhabdoid tumor research and "inverted classroom learning", wherein the organisors will provide publications prior to the workshop and expect participants to have gained an overview on the topics which will be discussed beforehand. In the second part of the workshop, summaries from each working group will be presented (peer-peer learning), in order for all participants to discern take home messages for each of the major topics.
More information here: https://www.ejprarediseases.org/event/rhabdoid-tumors-in-clinic-and-research-from-basic-biology-to-the-patient-bed/