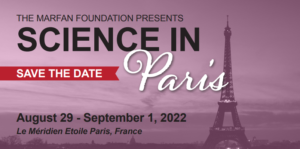 Save the date for the Marfan Foundation's Science in Paris event which will take place in Paris, France from August 29th-September 1st, 2022. This four-day meeting will feature three separate, but connected, meetings which aim to enhance collaboration and discovery to ultimately benefit patients and families. These meetings are:
August 29, 2022 – DEFY Foundation 5th Scientific Meeting on Vascular Ehlers-Danlos Syndrome
Registration for this meeting is free, thanks to generous support from the DEFY Foundation
August 30-31, 2022 – 11th International Symposium on Marfan, Loeys-Dietz, and Related Conditions
(Aortic Summit Poster Session)
September 1, 2022 7th  – GenTAC Aortic Summit
Registration opens on April 1st, 2022.
For more information read the event's brochure here