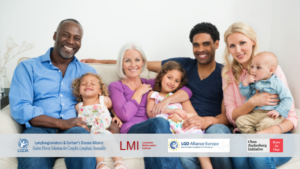 The LGDA/LMI International Conference on Complex Lymphatic Anomalies will take place online from October 2-3rd, 2021.
Organised by the Lymphangiomatosis & Gorham's Disease Alliance (LGDA), with help from its partners the Lymphatic Malformation Institute (LMI) and LGDA-Europe, this conference will bring together patients and their families, clinicians, and researchers from around the world to advance patient-driven solutions for complex lymphatic anomalies as part of our development of an international collaborative research network supported through our membership in the Rare As One Network.
Who Should Attend:
Patients & Families
Physicians, Nurses, Allied Health Care Providers
Established Researchers & Post-docs
Medical & Graduate Students
Rare Disease Advocates
Others interested in vascular anomalies
 Basic Science and Clinical Topics:
Genetic Causes of Complex Lymphatic Anomalies
Preclinical Models to Study CCLA, GLA, GSD, and KLA
New Technologies for CLA Research
Vascular Anomalies Registries
Treatments for CLAs
Imaging Features & Biomarkers
This free, two-day event has an exciting line-up of speakers, including VASCERN members Professor Miikka Vikkula (VASCA WG Chair), Professor Leo Schultze Kool (VASCA WG Co-Chair) and Professor Jochen Roessler (VASCA WG member). There will also be several "patient voice" sessions where people living with complex lymphatic anomalies share their unique journeys to diagnosis and treatment as well as their challenges and hopes for the future of research in this field. The full agenda can be seen here.
Link to the event website here
Register here