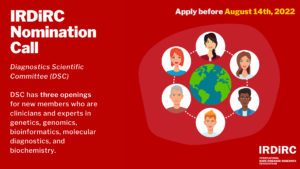 IRDiRC has four Scientific Committees, one each for Diagnostics, Therapies, Interdisciplinary, and Regulatory aspects of rare diseases research. The Diagnostic Scientific Committee (DSC) identifies current and future bottlenecks to rare disease gene discovery, addresses challenges and roadblocks in rare disease diagnosis, and collaborates with international partners to develop tools and resources to facilitate genomic data discovery, analyses and sharing.
IRDiRC is currently looking for clinicians and experts in genetics, genomics, bioinformatics, molecular diagnostics, and biochemistry who can commit to quarterly teleconferences, a yearly face-to-face meeting, and regular committee activities, including email correspondence.
Interested candidates are invited to send their resume, biosketch and letter of motivation to scisec-irdirc@ejprarediseases.org before the 14th of August 2022.
More information about the The Diagnostic Scientific Committee (DSC) : https://irdirc.org/dsc/