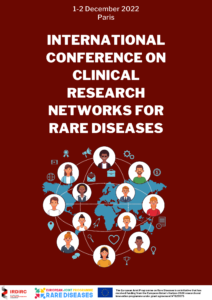 The International Rare Diseases Research Consortium (IRDiRC) and the European Joint Programme on Rare Diseases (EJP RD) are jointly organizing a two-day conference on clinical research networks (CRNs) for rare diseases, which will take place on December 1 and 2.
The objective of this conference is to gather experts from different continents to increase mutual knowledge on CRNs structure, activities and identify pathways to stimulate collaboration and interoperability of these networks.  
It is not possible anymore to register for in-person participation. To register for online participation, please complete this registration form. 
Find more information here.