For its 20 year anniversary, the Association Belge du Syndrome de Marfan (ABSM) is hosting a gala on Saturday, the 5th of October 2019 at the Palais des Académies in collaboration with the Foundation 101 Génomes (F101G) and the endorsement of VASCERN. The gala will start at 1:30 pm.
Professor Bart Loeys and Professor Julie de Backer will be speaking at this event respectively about:
the state of the art of the research initiated by the Foundation 101 Génomes: Genome-wide Epistasis for cardiovascular severity in Marfan Study
the long road to precision medicine for Marfan syndrome
Our ePAG members Charissa Frank (MSA-WG) and Romain  Alderwereldt (HTAD-WG) will also be in attendance at this event.
Prior to the gala, the scientific commitee of F101G will gather in the morning and members of our VASCERN HTAD working group will attend this meeting (Prof. Guillaume Jondeau, Prof Bart Loeys and Prof Julie de Backer).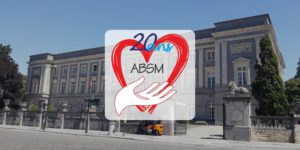 To read the full programme and to register for the gala click here.