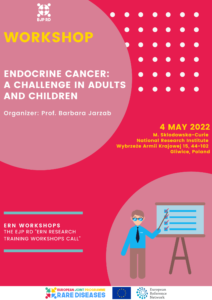 In the context of EJP RD's ERN Workshops, a face-to-face workshop on "Endocrine cancer: A challenge in adults and children" aimed at giving an update on the molecular background and clinical management of rare endocrine malignancies is being organised by Prof. Barbara Jarzab of the M. Sklodowska-Curie National Research Institute.
The in-person event will take place on May 4th, 2022 at the M. Sklodowska-Curie National Research Institute in Gliwice, Poland.
The workshop is open by prior registration and selection to endocrinologists, oncologists, surgeons, radiotherapists, internists and pediatricians, pathologists, radiologists, nuclear medicine specialists who are employees of affiliated to an ERN Full Member or affiliated Partner institution. 
The training workshop is free of charge.  Travel and hotel expenses will be reimbursed for all selected (max 20) ERN participants. Lunch and dinner will be provided on site for all participants.

Registration closes on January 28th, 2022 and those selected to participate from among the applicants will be informed by February 28th, 2022 of their selection.
More information and registration here: https://www.ejprarediseases.org/event/endocrine-cancer-a-challenge-in-adults-and-children/