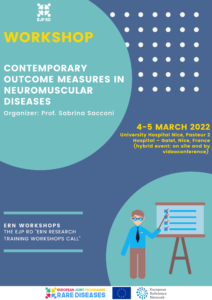 In the context of EJP RD's ERN Workshops, a hybrid workshop on "contemporary outcome measures in neuromuscular diseases" aimed at understanding the advancement of technologies with digital outcome measures in neuromuscular diseases is being organised by Prof. Sabrina Sacconi of University Hospital Nice.The hybrid event (in-person on site and online by videoconference) will take place over two days on:
March 4th – 5th, 2022 at the University Hospital Nice, Pasteur 2 Hospital in Galet, Nice, France.The workshop is open by prior registration and selection to different target groups, especially those who want to deepen their knowledge in clinical outcomes measures and innovative digital outcomes, consisting of researchers and clinicians affiliated to an ERN Full Member or Affiliated Partner Institution, physiotherapists and students.
The training workshop is free of charge. The workshop will consist of both presentations by experts in the field of neuromuscular diseases as well as interactive panel discussions and quiz sessions to train participants in performing and interpreting various outcome measures.
Registration closes on January 10th, 2022 and those selected to participate from among the applicants will be informed by January 14th, 2022 of their selection.

More information and registration here: https://www.ejprarediseases.org/event/contemporary-outcome-measures-in-neuromuscular-diseases/