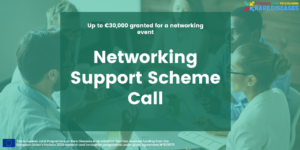 The European Joint Programme on Rare Diseases (EJP RD) Networking Support Scheme (NSS) is now open!
The scheme will provide financial support to applicants for fostering organization of workshops or conferences for new research networks or existing/expanding research networks to strengthen collaborations and to enable exchange of knowledge.
Eligible applicants to apply for the NSS are health care professionals, researchers and patient advocacy organizations from the following countries involved in the EJP RD (in alphabetical order):
Armenia*, Austria, Belgium, Bulgaria*, Croatia*, Czech Republic*, Denmark, Estonia*, Finland, France, Germany, Georgia*, Greece, Hungary*, Ireland, Israel, Italy, Latvia*, Lithuania*, Luxembourg, Malta*, Norway, Poland*, Portugal, Romania*, Serbia*, Slovakia*, Slovenia*, Spain, Sweden, Switzerland, The Netherlands, Türkiye*, United Kingdom.
The countries that are indicated with an asterisk (*) are usually seen as underrepresented countries.
At least one Principal applicant and two co-applicants from three different countries mentioned above have to apply together for support of a Networking event.
Maximum budget for networking event: € 30,000
The last collection date for the Networking Support Scheme in EJP-RD is December 1, 2022 at 14.00 (CET).
All information, including the call documents, can be found on the EJP-RD website here.