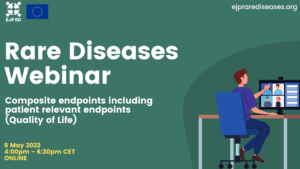 As part of the EJP RD Training series, an advanced-level training webinar on the topic "Composite endpoints including patient relevant endpoints (Quality of Life)" aimed at introducing the generalized pairwise comparison ideas and concepts as well as demonstrating its benefit in small sample trials, more particularly in including patient relevant endpoints, such as quality of life (QoL), is being organized by Universitaetsklinikum Aachen (Germany), Istituto Ortopedico Rizzoli IRCCS (Italy) and Assistance Publique Hôpitaux de Paris (France).
The training webinar will be held on May 6th from 16.00 – 18.30 CET.
The training consists of two parts: a 1.5-hour training in relatively recent statistical inference with the flexible class of generalized pairwise comparison tests for multiple endpoints, followed by 1 hour of panel discussion with experts from regulatory, pharma-industrial, academic, and clinical fields. The event is open to the international research community, clinicians, medical specialists, healthcare professionals and advocacy patient groups with knowledge of rare disease Clinical Trials.
The training is free, and registration is mandatory. Registration closes on May 2nd.
For more information and registration: https://www.ejprarediseases.org/event/composite-endpoints-including-patient-relevant-endpoints-quality-of-life/