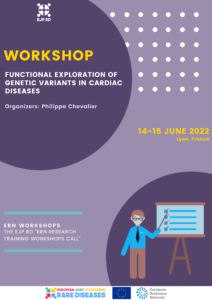 In the context of EJP RD's ERN Workshops, a face-to-face workshop entitled "Functional exploration of genetic variants in cardiac diseases" aimed at presentation of functional explorations of variants of interest identified using Drosophila, C. elegans, Zebrafish and iPSc models to understand the molecular bases of genetic diseases, in particular heart and muscle diseases, is being organised by Philippe Chevalier of the Hospices Civils de Lyon.
The in-person event will take place over two days on June 14th – 15th at the Hospices Civils de Lyon in Lyon, France.
The workshop is open by prior registration and selection to cardiologists, molecular biologists, post-docs, medical fellows, and PhD students and who are employees of or affiliated to an ERN Full Member or affiliated Partner institution.
The training workshop is free of charge and consists of interactive presentations and discussions.
Registration closes on May 1st, and those selected to participate from among the applicants will be informed by May 9th of their selection.
More information and registration here: https://www.ejprarediseases.org/event/ejp-rd-ern-workshop-functional-exploration-of-genetic-variants-in-cardiac-diseases/