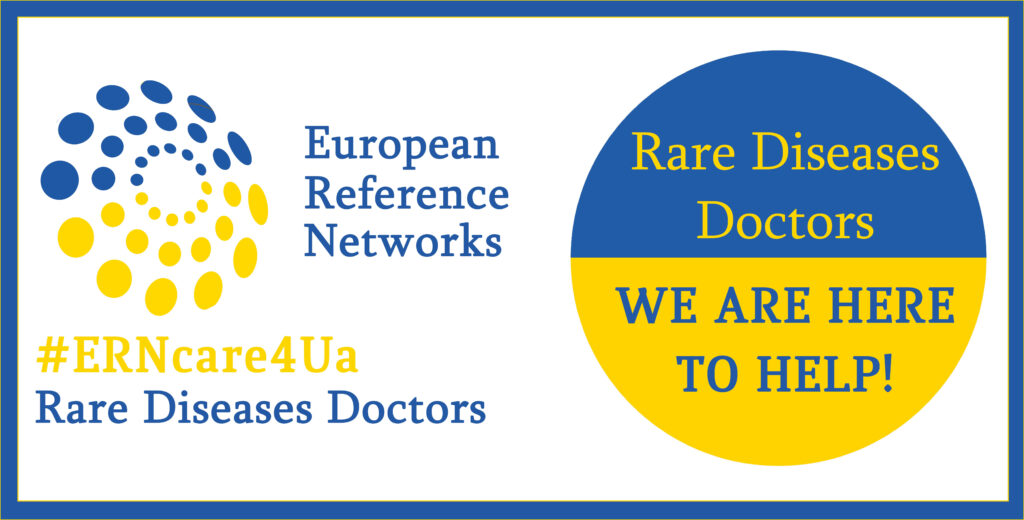 VASCERN and the 24 ERNs stand in solidarity with Ukraine and its Rare Disease community.
The ERNs have launched a new website (accessible in most EU languages, in Ukrainian and Russian) with contact points for each ERN by speciality as well as their list of members in Ukraine's Border countries and beyond. A central ERN contact point is also available. We will actively disseminate information about this website through all available communications channels.
Access the website here: www.erncare4ua.eu
Our 24 ERNs for rare diseases networks are specialized in the diagnosis and treatment of rare/ very rare illnesses in each of the 24 medical specialties. They include hospitals (healthcare providers or HCP), generally university centers, distributed in most or all EU countries (depending on the ERN), including in EU countries neighbouring Ukraine.
The ERN Coordinators Group have equally released a Statement to support people with Rare Diseases and Complex Conditions affected by the war in Ukraine, which outline several points of action that aim to provide optimal care for Ukrainian patients with rare diseases and complex conditions reaching the EU or who need to be transferred between EU healthcare providers.
"The 24 ERN Coordinators wish to underline their support, in particular, for our fellow healthcare professionals working under horrendous conditions in Ukraine. We stand with them and want them to know that they are not alone and they can contact us via our ERN websites. We, the 24 ERN Coordinators, hereby give our full commitment to help all stakeholders, especially doctors and their rare disease patients in this unprecedented situation and, together in solidarity, we must ensure that no rare disease patient is left behind."
You can read the full statement here.
If you are a patient (and/or family member/carer) with a rare vascular disease in need of assistance, please contact us at contact@vascern.eu.
We will be able to help you find the nearest expert center/patient organisation in a bordering country so you can receive support/treatment. You can also download the VASCERN app to see a list of expert centers/patient organisations on your phone.
Finally, EURORDIS has developed a questionnaire for Ukrainian refugees with a rare disease in order to best redirect them to the appropriate professionals.
Please try to share this information as much as possible using #ERNcare4UA, we are here to help!
National information on healthcare and conditions of arrival
Austria: ProRare, an Austrian umbrella organization for rare diseases, has set up a webpage offering information on available support for Ukrainian refugees with rare diseases.
Belgium: For information from the Belgian government on medical care for refugees, please visit this website.
Denmark: The Danish government provided information on the Danish healthcare system and how to access healthcare services.
France: Please find here information from the French Government in both French and Ukrainian on the rights of Ukrainians refugees in France on healthcare among others.
More information on provisions of care in French and Ukrainian.
Germany: The German government gave specific information for Ukrainian refugees. ACHSE, a German umbrella organization for rare diseases offers information for Ukrainians refugees with rare diseases.
Ireland: Ukrainian refugees arriving to Ireland can access information on healthcare services available to them on this website.
Italy: For information on the Italian healthcare system for refugees, please visit this website. A dedicated document for the welcoming of Ukrainian refugees is also available.
Lithuania: The Lithuanian goverment provided information for refugees in Ukrainian.
Netherlands: The Dutch government created a website for Ukrainian refugees and the Dutch Council for refugees gives details on the Dutch healthcare system. Information for Ukrainian refugees is also available from the Dutch Red Cross in Ukrainian, English, and Russian.
Norway: This website from Norwegian health authorities describes in Ukrainian the right to health care in Norway for refugees.
Portugal: The Portuguese government developed a dedicated website for Ukrainian refugees in Portuguese and Ukrainian.
Spain: The Spanish government has developed information on possibilities to enter Spain for refugees in Spanish and Ukrainian.
Sweden: Please visit this page for information on Ukrainian refugees arriving in Sweden.
Switzerland: The Red Cross dedicated a webpage in French and Ukrainian on Swiss healthcare.