We are very pleased to officially welcome 13 new Healthcare Provider (HCP) full members who have joined VASCERN as of January 1st, 2022!
These new HCPs first answered the 2019 call for membership to the existing European Reference Networks (ERNs) in November 2019 and the evaluation process, which has been ongoing over the past 2 years (unfortunately delayed to the COVID-19 situation), came to a conclusion after the ERN Board of Member States approved by consensus 620 applicants from the 24 ERNs on November 26th 2021.
Read the DG Health and Food Safety e-news announcing "620 newly approved members to join the existing European Reference Networks (ERNs) from 1 January 2022" here.
With the arrival of these new HCP members VASCERN will be enlarging its geographical coverage with HCP full members now in Spain, Lithuania, Portugal and Norway.
This means that VASCERN now gathers 48 expert teams from 39 highly specialized multidisciplinary HCPs, plus 6 additional Affiliated Partner centers, coming from 19 EU Member States.
The creation of a sixth working group, which will cover the neurovascular diseases CADASIL and Moyamoya disease, is also new as of January and will be referred to as the Neurovascular diseases working group or NEUROVASC WG.
The 13 new HCPs joining VASCERN are:
Alfried Krupp Krankenhaus, Essen, Germany: joining the NEUROVASC WG
Universitätsklinikum Gießen und Marburg, Germany: joining the HHT WG
Aarhus Universitets Hospital, Denmark: joining the HTAD and MSA WGs
Rigshospitalet, Copenhagen, Denmark: two separate expert teams joining the PPL and VASCA WGs
Hospital Sant Joan De Déu (SJD Barcelona Children's Hospital), Spain: joining the VASCA WG
Hospital Universitari Vall d'Hebron, Spain: joining the HTAD WG (previously a VASCERN Affiliated Partner)
Assistance Publique des Hôpitaux de Paris, APHP nord, Hôpital Lariboisiere, France: two separate expert teams joining the VASCA and NEUROVASC WGs
Fondazione IRCCS Istituto Neurologico Carlo Besta di Milano, Italy: joining the NEUROVASC WG
Vilniaus universiteto ligoninės Santariškių klinikos, Lithuania: joining the VASCA WG
Leiden University Medical Center, the Netherlands: joining the NEUROVASC WG
Oslo universitetssykehus, Norway: two separate expert teams joining the HTAD, MSA and VASCA WGs
Centro Hospitalar de São João, EPE, Portugal: joining the VASCA WG
Akademiska sjukhuset – Uppsala University Hospital, Sweden: joining the MSA WG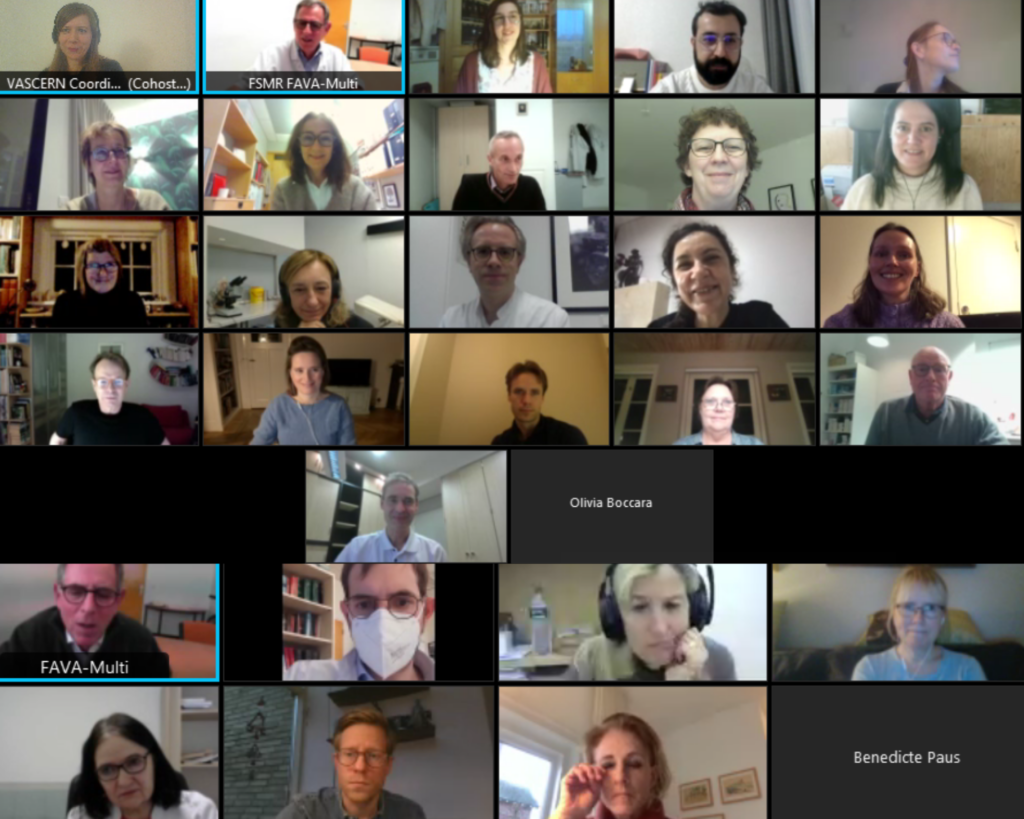 The representatives from these 13 HCPs attended a welcome webinar with Professor Guillaume Jondeau (VASCERN coordinator) and the rest of the coordination team in January and have now also attended their first Rare Disease Working Group (RDWG) meeting.
These new HCP members, and their representatives, will be added to our website in the coming month as we collect photos and confirm their details. We look forward to collaborating with these new experts that will bring much added value and knowledge to our network!