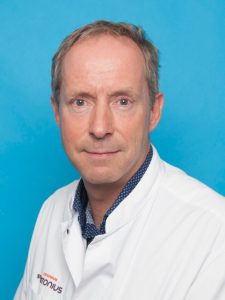 This month, we interview Dr. Hans-Jurgen Mager, a pulmonologist from the Netherlands working at St. Antonius Hospital and member of the Hereditary Haemorrhagic Telangiectasia Working Group (HHT WG). Dr. Mager tells us how his passion for HHT was born, the work he has achieved in advancing diagnostic and therapeutic research in this rare disease, the importance of networking and the greatest accomplishments of VASCERN to date.
1. What disease(s) do you specialize in (or what is your medical specialty) and what interested you in this field?
I am a pulmonologist working at St. Antonius Hospital and I am interested particularly in HHT and pulmonary vascular diseases related to HHT, but I also work with patients with pulmonary hypertension. When you decide on your specialty you have to decide what you like more: do you prefer surgery or do you prefer the more investigative side. I found surgery very interesting but I knew that being in an operating theatre all day was not for me as I wanted to be in contact with patients and participate in solving the "puzzle" of diagnosing a disease. I wanted to see the patients, talk to them and solve the mystery of diagnosing what they had. I also like practical procedures, so at first I was leaning towards internal medicine, but during my medical training I discovered pulmonology, which I really enjoyed as in addition to having the contact with the patients, you also get to practice procedures like bronchoscopy and pleural drainage, so you have lots of interesting things to do.
2. How did you become involved in VASCERN?
So first of all, I became involved with HHT during my medical training to become a pulmonologist. Dr. Kees Westermann, who was involved with a small international group of specialists interested in HHT, asked me if I wanted to do a study on capillary microscopy of the nail folds in HHT patients. Although I wasn't particularly interested in examining the nail folds at the time, he said that I could present the results at the International Conference of HHT in Curaçao and so I jumped at the opportunity. While examining and talking to HHT patients I got interested in this rare and special disease, which involves multidisciplinary care. The international HHT conference in 1997 was probably the most special conference that I have ever attended. It took place in a hotel located by the beach and there were only about 40-45 people (relatively small for a scientific conference) but they were all so enthusiastic and so involved with HHT that I caught the "HHT bug" and I haven't looked back since. It made me very interested in learning more about this disease and how to improve outcomes for patients. The clinical diagnosis of HHT is based on the Curaçao criteria, which were established at this very conference. Many of the members of the VASCERN HHT WG I met at that original conference in 1997. Afterwards, I continued to perform more research with Dr. Westermann, focusing more on pulmonary arteriovenous malformations (AVMs) in HHT patients. Then, many years later in the Netherlands, we had the possibility of making our center a recognized expert center, so that we could become a part of the European Reference Networks (ERNs). We knew that we needed to become a recognized expert center and that we wanted to be a part of the ERNs as it was an opportunity to create a formal European collaborative network. I was in contact with many of the HHT specialist that I have known now for over 15 years and we discussed how our HHT group could join the ERNs. At some point, we learned that Professor Guillaume Jondeau was busy establishing VASCERN and that as an HHT group, it would be the most logical ERN to apply to.
3. What is your greatest hope for VASCERN?
At the moment, one of my greatest hopes is that we can meet again soon face to face. The digital meetings, like our VASCERN Days last year, are a good solution in these COVID times, but they are second best. The virtual VASCERN Days were better than I expected but the networking aspect is something that is so important, as we are a network, and therefore it is not only the formal meetings that are important but also the informal discussions with a cup of coffee where we can talk about issues of research, improving care, collaboration (not only within the ERN but between two centers) etc. I really hope that we can have a VASCERN Days face to face in October (fingers crossed)! Secondly, I hope that we will find a solution to make the ERNs more sustainable. Right now everything we do for the ERNs is in our own time. At the moment it is not really a problem for me, as I know how important these networks are and I have been involved since the start. However, in the future it might be hard to keep people interested and they will have more difficulties participating if there is not some sort of reimbursement or, more importantly, funding grants for research projects that our ERN groups can apply to. Lastly, it would be good to eventually link the ERNs with other international networks outside of Europe. It would be nice for example if we could in the future collaborate with Cure HHT, an American patient organization that is the motor behind the new HHT guidelines (they provide funding and organizational support for HHT conferences), in order to form a formal international network for HHT.
4. What challenges do you face as a healthcare professional in the rare disease field?
The challenge is that rare disease patients need more consultation time than the average patient and, as medical care is a burden for all economies, hospitals try to decrease the costs as much as possible, leading to the difficulty of not having enough time to deliver the care needed. There is no special reimbursement in the Netherlands if you deliver rare disease care. I would see a "normal" new patient for a 20 minute consultation, whereas for a new HHT patient I need 45 minutes. The scans that we need to perform for these patients are more expensive also. At the moment at my center we can still manage, but we are arriving at the limit. We need to convince the insurance companies that the specialized care that HHT patients require is covered by them. I think it will be the case, but it requires energy to keep this lobbying going and make our point heard. For performing rare disease research you also really need a budget from outside of your hospital and it takes lots of time to apply for grants. So, on the one side we see that there are major advancements with networks like the ERNs that are greatly improving the quality of care, but we need to make sure that we will be supported so that we will still be able to deliver that care, because it is expensive care.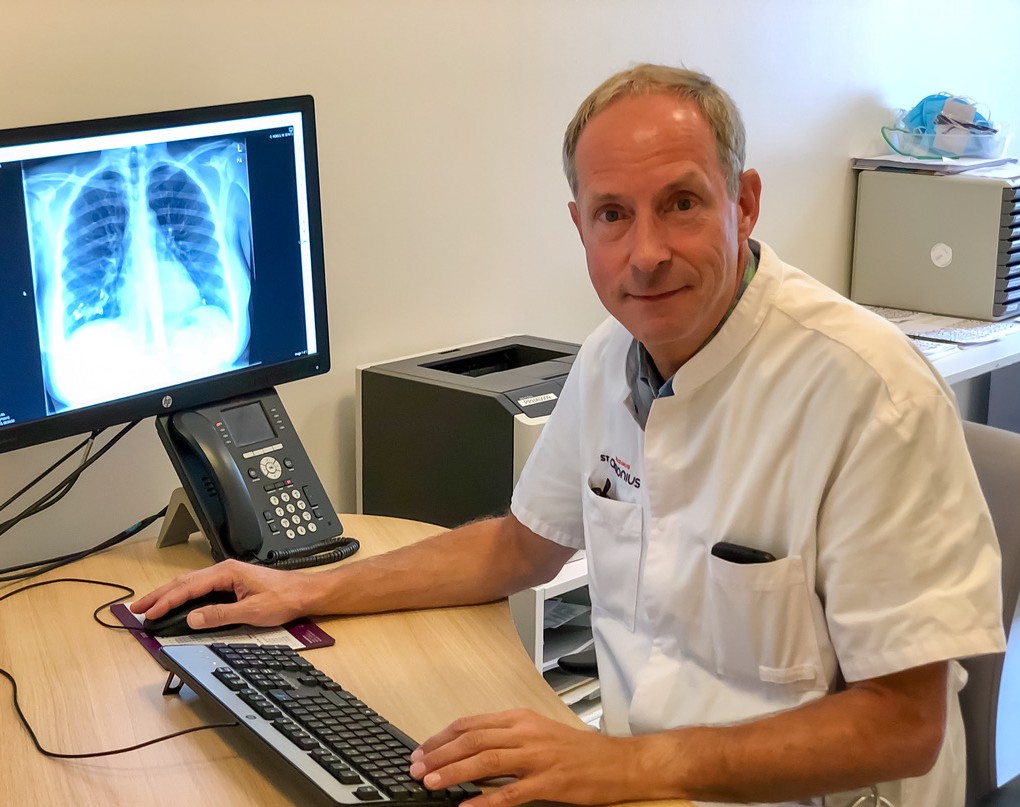 5. What have you accomplished in your medical career that you are most proud of?
I would say that it is not so much one thing that I am proud of, but a combination of all the effort and advances that have been made over the years. When Dr. Westermann (who officially stopped working in 2003, but stayed on with us for research projects until he was 79) first got me involved in HHT, the center existed but we did not yet have a database and we were not a recognized expert center. Step by step since then we have expanded in many ways: we have been officially recognized by our health authority as an expert center for HHT in the Netherlands, we have a registry, we have had many PhD students do their thesis on a topic in HHT research, I am Chairman of the Global Cure HHT advisory board, and we are HCP full members in VASCERN. I know that he is very proud that what he started has grown so much and I am also very proud of what we have accomplished over the past 20 years, in particular the many research advances made in improving diagnostic and therapeutic pathways for HHT patients.
6. Are you currently involved in any research projects or clinical trials? If so can you please describe them briefly?
We currently have a collaborative research project ongoing involving the effect of two medications, tacrolimus and itraconazole, in HHT patients. These medications have been on the market for a long time for other indications, but based on their properties they could be useful in treating HHT patients. The nice thing about this project is that we are not only testing in the patients but we are also testing it in the laboratory, using HHT cell models and seeing what happens when we administer these medications, and then testing in mice models also; so it is true translational research. We are also going to be starting a project with Vaderis, a new Swiss pharmaceutical firm, who is developing a new drug specifically for HHT. They have started phase 1 research and we hope to start a phase 2 study in patients in 2022 that will be multicenter and involve other European centers. There is also the SAIPAN trial, ongoing within the HHT WG centers, but we have been facing difficulties as we only have 8 patients included (7 from the Netherlands) so far. This is due to COVID: inclusion has been slow and we have not been able to include patients from many countries, so I hope we can include 20 more patients in the second half of the year. We equally have several studies going on at St. Antonius, not only involving pulmonary AVMs but also on how to improve screening protocols in HHT.
7. What VASCERN activities do you participate in and which are your favorite?
I participate in all of the activities of the HHT WG, including participation in the monthly meetings, clinical case discussions, writing consensus papers, Do's and Don'ts factsheets, patient pathways, and of course the SAIPAN trial. During our meetings, I really like discussing clinical pathways, research topics, and clinical cases, whereas any discussions on bureaucracy I like much less!
8. What are the main achievements of VASCERN to date? What challenges does VASCERN still face?
I think the main achievement is that VASCERN is not only established but it is now working very well, with several big projects underway (including the VASCERN registry). The more active we are the more it will remain successful in the long term. I also think that Guillaume Jondeau has been great at steering the network, he has a special way of listening and guiding the network that works well and I think he does a really great job as coordinator. Therefore the best thing about VASCERN is that it is not only established but that we have proven that we are not just sitting together but we are also working well together and being productive. The challenge is that it stays this way, so as I said above, there should be some kind of reimbursement for those who are putting in so much of their time (e.g. HCP representatives, RDWG Chairs, patient advocates) and it would also be nice if the European Commission could provide more funding grants for the research projects of the ERNs.