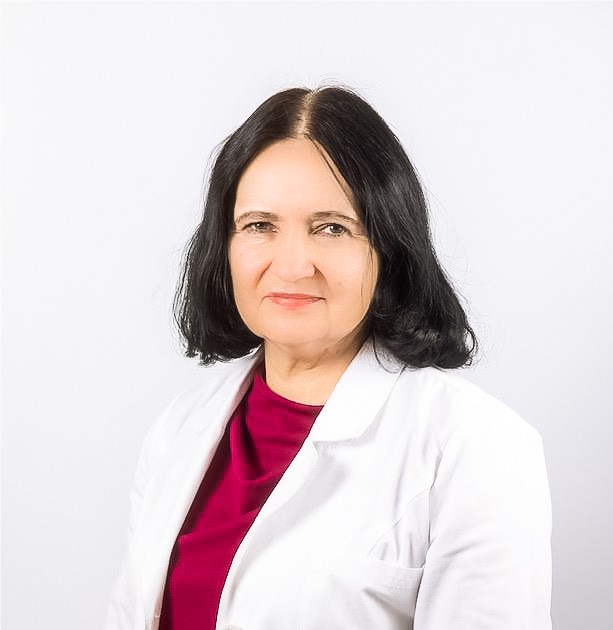 We are excited to feature an interview with Dr. Birutė Vaišnytė, a vascular surgeon from Vilnius, Lithuania, in our first VASCERN Spotlight of 2023. Dr. Vaišnytė is a member of the Vascular Anomalies Working Group (VASCA-WG). In this interview, she discusses how she became interested in the field of vascular anomalies, her most proud moments as a medical professional in the field of vascular anomalies and her hopes for VASCERN.
1. What is your medical specialty and what interested you in this field?
I am a vascular surgeon, and throughout my career, I have specialized in all arterial and venous pathologies. However, I began to look for new challenges and ways to improve myself professionally and became curious about vascular anomalies 25 years ago. I was fortunate to have the opportunity to learn from widely known experts in this field, such as Prof. D.A. Loose and Prof. J. Weber in Germany. They shared a lot of their experience and knowledge with me, and I am very grateful. As time passed, I became even more engrossed by the complex pathology and the technically interesting as well as difficult surgeries. The ability to help patients who endure this pathology is the most rewarding since most of them struggle to get much-needed help. Therefore, I became committed to this field and established a center for congenital vascular anomalies at Vilnius University Hospital Santaros Klinikos in 2012 and have been coordinating it ever since. It allowed me to implement advanced diagnostic methods using tools such as lung perfusion scintigraphy and dynamic contrast-enhanced magnetic resonance imaging. Also, the possibility to treat the pathology not only surgically but incorporating minimally invasive methods too. As a result, more professionals and young doctors became interested in this field, allowing us to have a multidisciplinary team of 32 doctors in our center.
2. How did you become involved in VASCERN?
I have been attending and presenting at ISSVA conferences yearly since 2006. It provided an opportunity to stay connected with professionals in this field. I spoke with Prof. Mikka Vikkula during the ISSVA conference in 2018 (in Amsterdam). Being the VASCA WG Chair himself, he told me a great deal about the activities of VASCERN. I understood right away the importance of participating in the ERNs since it creates a bridge between expert centers, allowing new opportunities to arise. As a result, we applied for membership and were accepted in 2022. It made our whole team very happy and motivated us to move forward with our work.
3. What is your greatest hope for VASCERN?
Since Lithuania is a small nation with only one congenital vascular anomalies center, international cooperation is extremely important to us. It not only makes it possible for professionals to share acquired clinical knowledge, but it also allows our patients to receive multidisciplinary counseling from leading experts in this field. Our greatest hope is that VASCERN will provide us with an opportunity to do multi-center research on congenital vascular malformations. Given the rarity of this condition, international collaboration among specialists in this field is crucial to gaining further understanding and developing innovative and effective treatments for vascular malformations. Subsequently, it could spark a light on creating clinical practice guidelines or consensus statements on optimal medical management for vascular anomalies.
4. What challenges do you face as a healthcare professional in the rare disease field?
One of the main problems we face is a lack of knowledge about these rare disorders. This issue includes not only patients but also medical doctors. We often encounter cases of previous misdiagnosis and, as a result, poor treatment. However, the establishment of a center for congenital vascular anomalies in our clinic addressed this problem by improving patient diagnosis and ensuring adequate treatment. It is also worth pointing out that the healthcare system sometimes fails to acknowledge the special needs of patients impaired by this pathology. Nonetheless, we expect that by raising awareness among the public and medical community, we will be able to solve this problem in the future. I would also like to emphasize the lack of high-quality science-based medical data. Because it is a rare pathology, the possibilities for clinical trials are very limited. Therefore, a coordinated network of specialist centers across Europe is crucial for developing further knowledge.
5. What have you accomplished in your career that you are most proud of?
As chief of the vascular surgery department, I am very glad that I was able to develop diagnostic and treatment possibilities for vascular anomalies in Lithuania. As mentioned before, I established a center for congenital vascular anomalies at Vilnius University Hospital Santaros Klinikos in 2012 and gathered a team of 32 professionals who currently work in the center. The same year, I successfully defended my doctoral thesis on arteriovenous malformations. From my perspective, it is especially fulfilling work because I can help patients that were considered helpless for a very long time. In addition, as a surgeon, I am thrilled to perform fascinating and technically challenging surgeries that are the only known complete cure for vascular malformations if resected radically. Furthermore, I teach students and resident doctors in a vascular surgery training program at Vilnius University. I am proud of my students' interest and desire to work on this pathology, as it ensures the future development of this field. I would like to point out that not only me, but our whole team is very happy to be a part of VASCA.
6. Are you currently involved in any research projects or clinical trials? If so can you please describe them briefly?
I was involved in the COSCAM and OVAMA projects. For the time being, I enjoy presenting and publishing difficult case reports encountered in my practice. We are hopeful that multi-center international research will be developed in the future. My team and I would be eager to participate in it.
7. What VASCERN activities do you participate in and which is your favorite?
I am a member of the VASCA-WG. As new members, we try our best to introduce our team to all of the activities and opportunities VASCERN offers. I attend the monthly meetings and patient discussions. The multidisciplinary discussions, in my opinion, are the most captivating because it often unwraps interesting discussions and addresses problematic questions with possible solutions.
8. What are the main achievements of VASCERN to date? What challenges does VASCERN still face?
The greatest achievement of VASCERN is the establishment of a united network of expert centers for congenital vascular anomalies within Europe. However, many issues remain unsolved. I hope that through VASCERN, we will be able to help European healthcare systems acknowledge the needs of patients suffering from congenital vascular anomalies. Moreover, I believe we are all hopeful that in the future, we will be able to develop diagnostic and treatment guidelines based on medical evidence. It will be particularly challenging due to the rarity and distinct manifestation of each case. However, with a coordinated network of European expert centers, this is possible.