The Project coordination team based in Paris (Healthcare Provider Coordinating: Assistance Publique Hôpitaux de Paris, Hospital Bichat – Center of Reference for Marfan Syndrome and related disorders) is growing: 2 new VASCERN Coordination team members have joined Prof Guillaume Jondeau and Marine Hurard on September, 19th .
The VASCERN team reinforced will enable us to provide more support to all our Members in the implementation of our action plan, as well as to improve and increase our external & internal communication, among others.
Natasha Barr has joined VASCERN as Project Officer: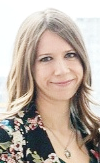 "Hello!  My name is Natasha Barr and I am very happy to join VASCERN as the new project officer. I am originally from Vancouver, Canada, where I acquired my Bachelor of Science Degree in Biology from the University of British Columbia before coming to Paris in 2010. For the past six years I worked at Orphanet-The portal for rare diseases and orphan drugs, where I was in charge of the update and creation of the rare disease summary texts for the Encyclopedia for Professsionals. I am therefore very pleased to continue to work with the rare disease community and participate in the success of the ERNs. I look forward to working with all of you in order to improve the lives of all patients with rare diseases."
Contact
Tel: +33 (0)1 40 25 70 76
Email : natasha.barr@aphp.fr
and Hélène Deparis as Administrative Assistant:
"Hello! My name is Helene DEPARIS and I joined the Parisian VASCERN team as an Administrative Assistant on September 18, 2017. I am really happy about that. I have a background in Science. I have working experiences as a secretary (for example in the fields of medical research and paternity research). I really enjoyed a 5-year experience in medical research in psychiatry and neurosciences in PARIS as an Assistant. I was for example in charge of logistics and meetings organization for European researchers and MD. I am looking forward to working with you in the field of Rare Vascular Diseases."
Contact
Tel: +33 (0)1 40 25 70 77
Email: helene.deparis@aphp.fr
The VASCERN Coordination team is looking forward to meeting all VASCERN Member at the 1st VASCERN Annual Seminar, which will take place in Paris in October 13-14th.