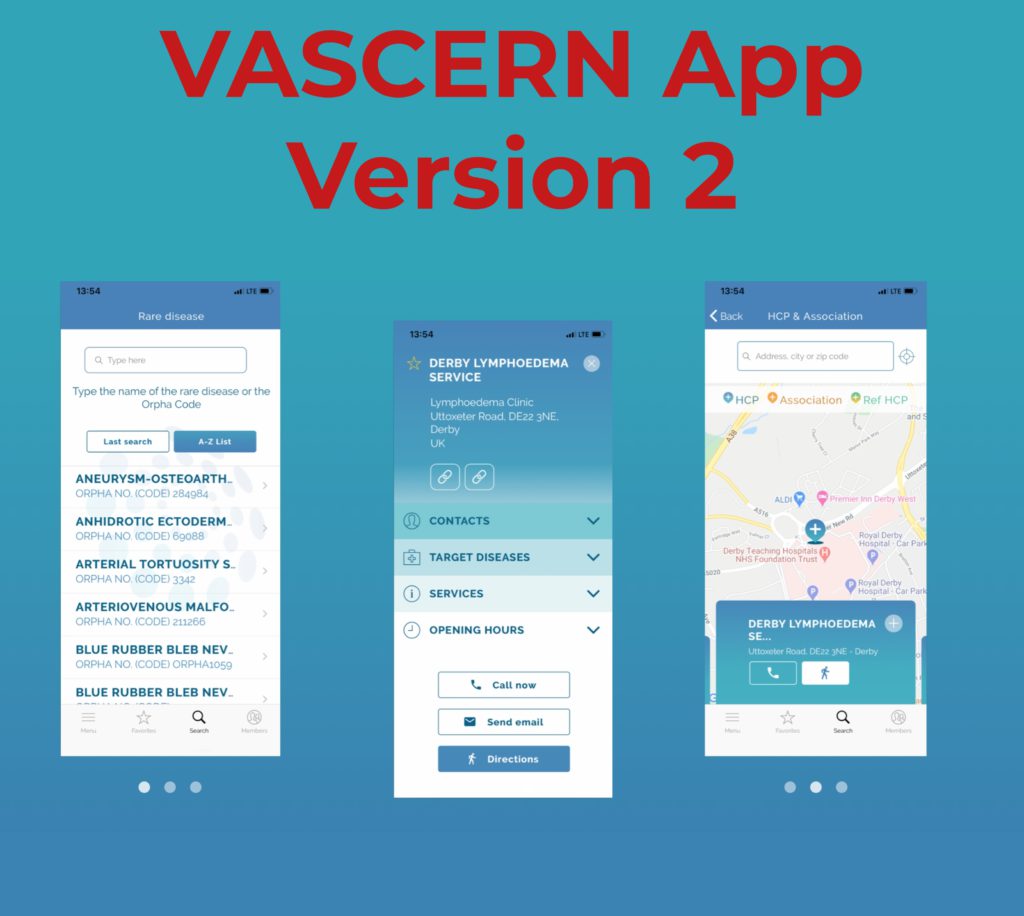 We are very happy to officially announce the launch of the updated version of our mobile app: VASCERN app version 2!
In order to start using VASCERN app version 2, please uninstall and delete version 1 (or any test version) and then:
Download the VASCERN App (Version 2) for Android at the Google Store here.
Download the VASCERN App (Version 2) for IOS on the Apple Store here.
VASCERN App is a mobile application that is created for patients in order to facilitate cross-border healthcare within the European Union, one of the core aims of the ERNs. It is a tool that allows patients to search for the most competent Healthcare Providers as well as Patient Organisations related to their rare vascular disease throughout Europe.
The VASCERN App (version 1) was officially launched in January 2019. Since then we have been working hard to make many improvements for version 2, including:
The inclusion of our 7 new Affiliated Partner Centers (they will appear with the HCPs Full Members on the map).
The translation of the app's structure and disease names into various EU languages so that the mobile app will launch in the user's device language for easier navigation and searching (please note that the content of each HCP card/PO contact card is still in English so that this information is accessible to all).
The inclusion of Referral Centers (Ref HCPs): centers that cooperate with the VASCERN European Reference Centers (ERN Full Members and Affiliated Partners) as part of the national networks and that can provide expert care to patients for rare vascular diseases.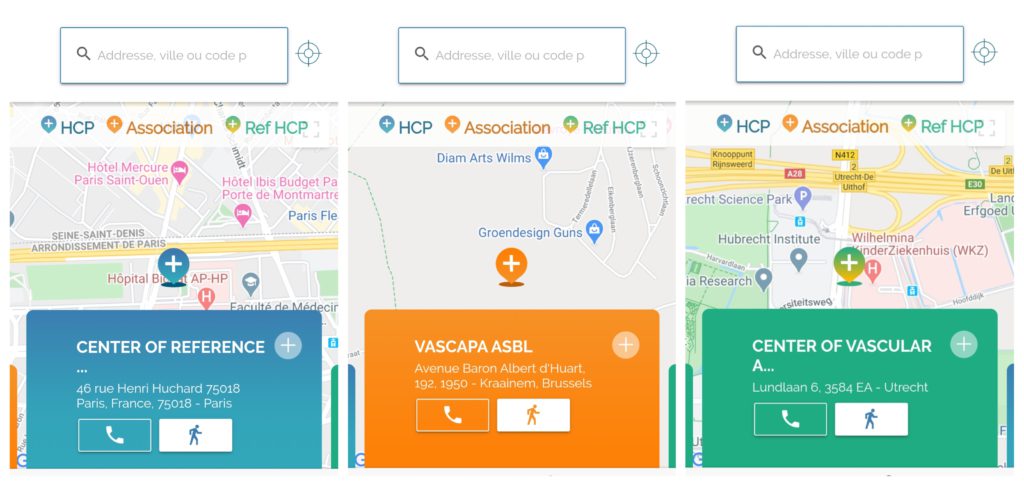 The VASCERN app currently includes datasets from 35 HCP Full Members, 6 Affiliated Partners, 33 Referral Centers and 66 Patient Organisations and we will continue to add new Referral HCPs and Patient Associations as we receive them in order to ensure that patients in Europe can always find the proper care they need.
Version 2 of the VASCERN app is made possible by development work provided by Media 4 Health, datasets provided by our members, and management, data entry/quality control work by the VASCERN Coordination & Project Team. We equally thank Dr. Alessandro Pini, our VASCERN App Advisor, from IRRCS Policlinico San Donato, Italy. We would also like to thank our members for providing their data and helping us to test the second version before its release.
Media 4 Health is open to working with other ERNs who wish to create a similar mobile application in order to assist patients with their rare diseases. If interested please contact mario.mauri@m4h.it and info@m4h.it. If several ERNs are interested, they could enquire together as the project could benefit from economies of scale.
We look forward to receiving your feedback on VASCERN app Version 2! If you have any, please send them to: vascern.coordination@aphp.fr