The first International E3 Summit, powered by The Marfan Foundation and VASCERN has come to an end! This historic event took place from Aug 25 – Sep 12th, 2020 and gathered more than 2,810 registrants from 75 countries for three weeks of education, empowerment and enrichment.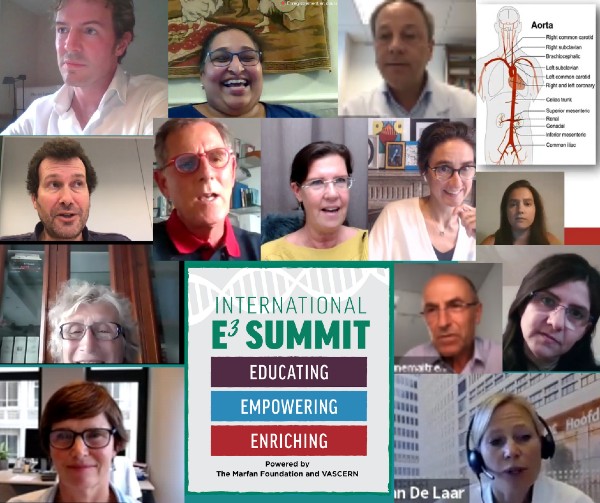 Live educational presentations during the summit covered a wide variety of topics on Marfan syndrome, Loeys-Dietz syndrome (LDS), Vascular Ehlers-Danlos syndrome (vEDS), and related conditions and featured both renowned healthcare professionals and patient advocates from around the world.
VASCERN was very proud to collaborate with The Marfan Foundation and together we were able to offer presentations in 7 languages (English, Spanish, Italian, French, German, Dutch, Russian) in order to reach a larger audience than ever before! The question and answer sessions, as well as the community message boards featured in the event app, allowed for lively interactions between speakers and attendees.
If you missed the summit you can still register to gain access to the E3 summit's event app in order to watch all of the sessions, ask questions and connect with the community. Register here!
A very special thank you to members of VASCERN's Heritable Thoracic Aortic Diseases (HTAD) and Medium-Sized Arteries (MSA) Working Groups, both healthcare professionals and patient advocates of the European Patient Advocacy Group (ePAG), who were speakers and gave presentations in the following sessions listed below (click to watch):
We thank again The Marfan Foundation for giving us the opportunity to partner with them for such an important and groundbreaking event. We look forward to many new collaborations with them in the future!