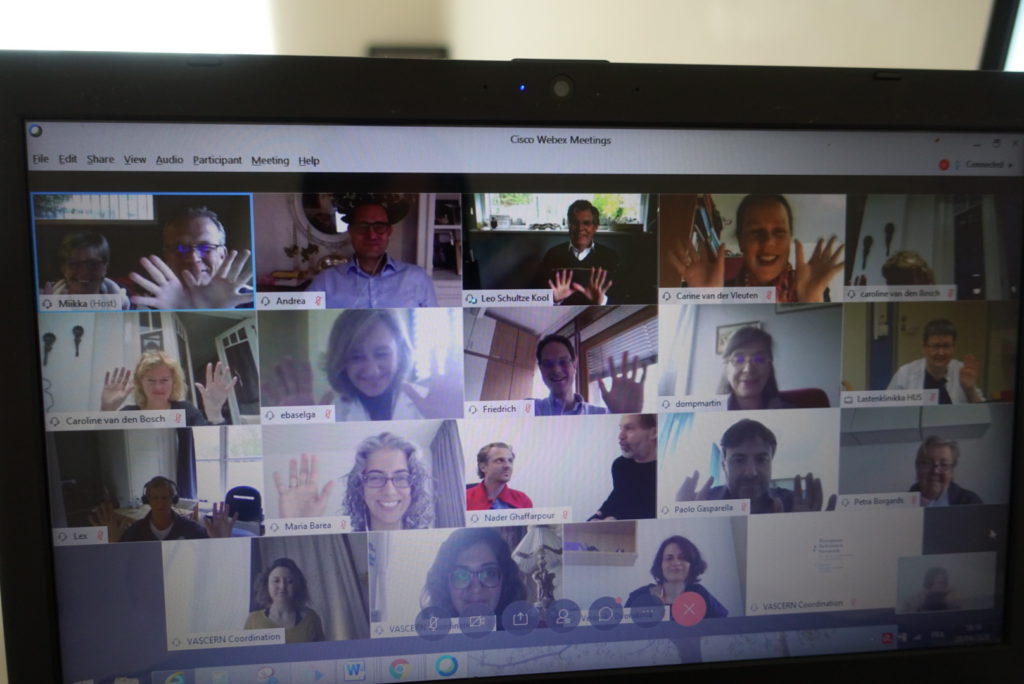 The Vascular Anomalies Working Group (VASCA WG) face-to-face meeting, that was planned to take place in Brussels from April 28th to 29th, 2020 was instead transformed into a 2-day virtual meeting due to COVID-19.
Chaired by Professor Miikka Vikkula, the meeting was attended by 14 healthcare professionals from 10 EU countries (Austria, Belgium, Finland, France, Germany, Ireland, Italy, the Netherlands, Spain and Sweden) and 4 VASCA patient advocates of the European Patient Advocacy Group (ePAG) from Belgium, Germany and the Netherlands.
Many subjects were discussed during this 2-day event! First, the group talked about the upcoming online workshop of the International Society for the Study of Vascular Anomalies (ISSVA) as all members of the VASCA WG will attend this event and various posters by the group will be presented. Next there were updates on the VASCA registry project by Professor Leo Schultze Kool (VASCA WG Co-Chair and Chair of VASCERN's Registry WG). Finally, all of the VASCA ongoing research projects were discussed, which cover a variety of exciting topics including vascular anomaly pathology, diagnostic genetic testing, variants of unknown significance (VUS) and new therapies.
The following day started with a talk about imaging for preclinical models, followed by a discussion on the new HCP applications and the creation of national networks (where VASCERN Coordinator Professor Guillaume Jondeau joined). The patient advocates presented the idea of a patient passport that would be in the form of a card that can be shown in an emergency. Other topics were also discussed, such as the VASCERN mobile app, three new patients' pathways (that will be finalised after the ISSVA workshop), topics for new Pills of Knowledge (PoK) screencast videos and the initiation of clinical practice guidelines.
This second day ended with the healthcare professionals participating in a patient case discussion using the Clinical Patient Management System (CPMS).
Despite being online, this 2-day meeting resulted in plenty of new ideas and suggestions for the future and we would like to thank all of the members of the VASCA WG for the work they accomplished and for their enthusiasm and investment!