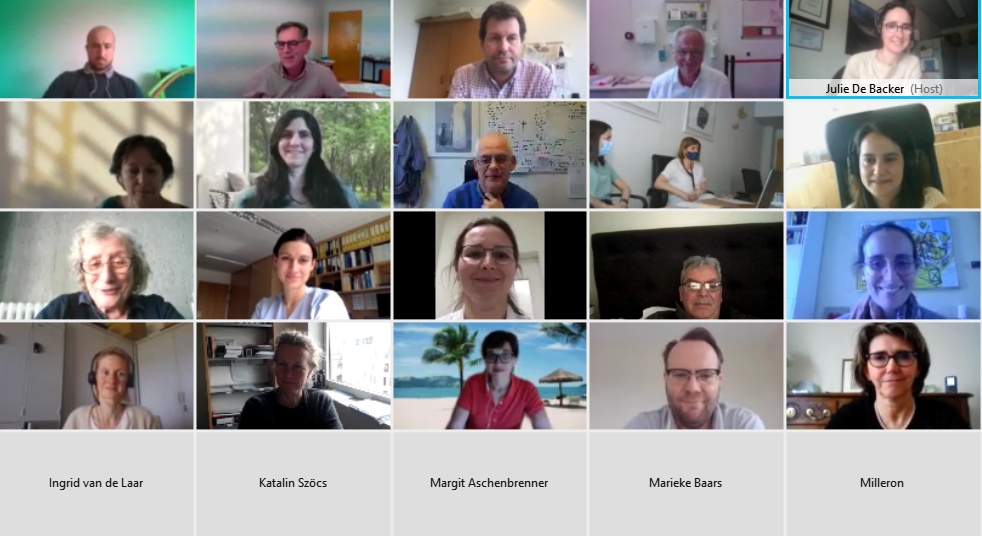 The Heritable Thoracic Aortic Diseases Working Group (HTAD WG), Chaired by Professor Julie De Backer, held their online Spring meeting on May 27th, 2021. The dynamic group was comprised of 25 Healthcare professionals from 11 countries as well as three patient advocates (including the European Patient Advocacy Group (ePAG) Co-Chair, Elena De Moya Rubio and Deputy Co-chair, Françoise Steinbach)
The group started their meeting with a a presentation of the HTAD registry database by Professor Guillaume Jondeau (VASCERN coordinator and HTAD WG Co-Chair), which has been constructed and will soon be ready to use by all HTAD HCPs. This was followed by a presentation of the results of an aortic imaging study performed by the HTAD aortic imaging sub-working group. The preliminary analysis from 5 HCPs that participated revealed that there are differences in the way the aortic root is measured, even when using the same technique. The group will now enlarge to include more participants so that they can have more data and take positions on the best techniques to be used in order to reduce variability and produce a consensus paper on the topic.
Results from the clinician's Clinical Outcome Measures survey were also presented at the meeting. Overall the HTAD WG's Healthcare Provider (HCP) centers are doing well in the identified domains (which include such items as patients having access to their medical records, information given to family members, coordination of psychosocial care, waiting time for appointments etc.) but there are still a few areas for improvement and they will follow up with a patient focused survey in order to have the patient's perception on these measures also.
Next, the group discussed the Marfan compendium that they are creating in order to produce a criteria compendium for the assessment of Marfan syndrome so clinicians all use the same way to assess the presence of absence of clinical signs. Members will contribute to the writing on one or more Marfan signs in the compendium.
The group also talked about the finalisation of their new Do's and Don'ts factsheets on Loeys-Dietz syndrome (which have a few last points to validate), as well as the Marfan syndrome emergency cards, update from the pediatric sub-working group and updates on the ERN exchange Programme (including the request/proposals received from the HTAD WG members so far).
Overall, the HTAD Spring meeting was a very productive online meeting as the group advanced on many of their projects that should lead to the finalisation and publication of new outputs soon. We congratulate the group for all of their hard work and enthusiasm!