The 10th International Conference of the International Lymphoedema Framework (ILF) took place from the 18 – 20 November 2021 in Copenhagen, Denmark. We are happy to report that both the patient advocates as well as healthcare professionals from the Pediatric and Primary Lymphedema Working Group (PPL WG) were largely represented at this international event! More than 900 delegates were in attendance over the 3 days, with additional patients and clinicians connecting to the conference virtually.
Several VASCERN members gave presentations at this event including Dr. Robert Damstra (PPL WG Chair) who spoke about the European Reference Network for rare diseases (ERN): Pediatric and primary lymphedema network of European expert centers, Professor Miikka Vikkula (VASCA WG Chair), who spoke about the Genetics of lymphoedema: An update and Pernille Henriksen (ePAG Co-Chair for PPL) who spoke on Infections; the experiences, the fear and the solutions from a patient point of view, which included information on the PPL generated material on this subject (such as the webinar on PPL and infections, the PoK video on cellulitis and the PPL Do's and don'ts factsheets).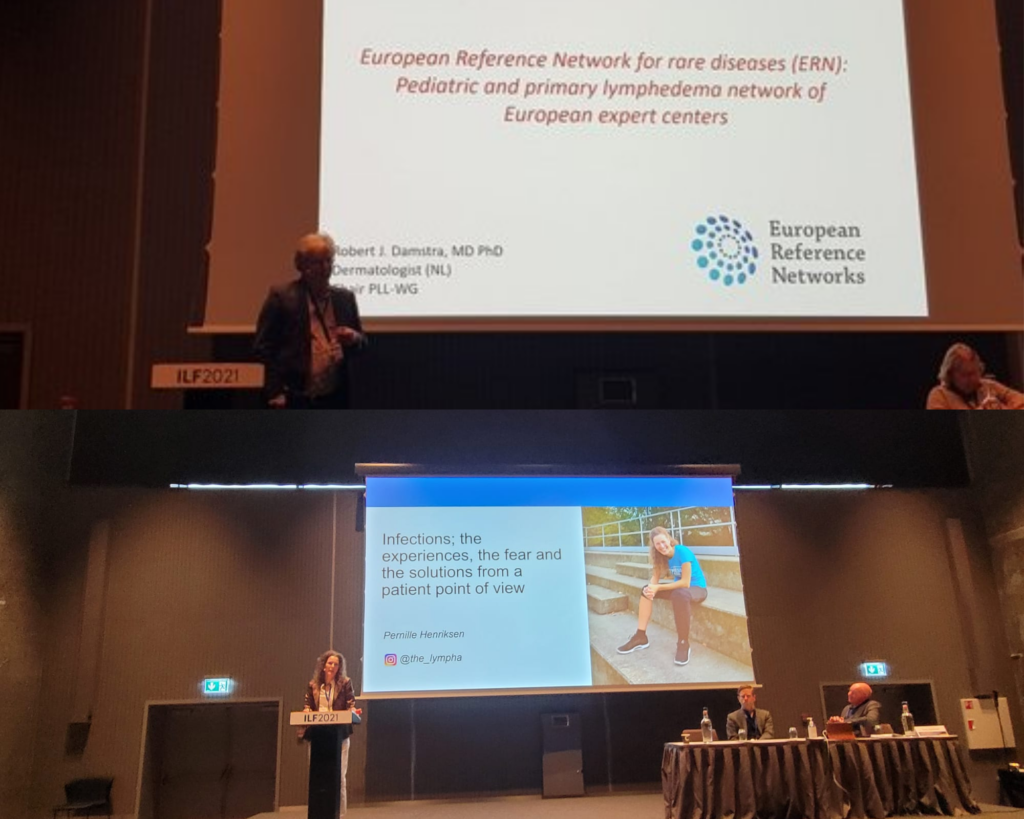 Pernille was also part of the organising committee as a patient representative from DALYFO (in the Danish Lymphoedema Framework) and Chaired a special patient-dedicated session that took place on Saturday, November 20th.
Elena Matta spoke about self-management techniques during an industry sponsored symposium and Eline Hoogstra was part of the framework meeting representing the Dutch patients along with NLNet. 
Our PPL ePAG group, as well as PPL WG members, equally created many posters that were on display throughout the event and were viewed by participants from around the world.
We are proud to report that out of the 76 posters on display, it was the ePAG poster entitled: Collaboration of VASCERN's Pediatric and Primary Lymphedema patient representatives to ensure patient empowerment and transmission of the patient's point of view, by PPL's ePAG patient advocates Pernille Henriksen, Manuela Lourenço Marques, Elena Matta, Eline Hoogstra, Carina Mainka, that won first prize of BEST POSTER!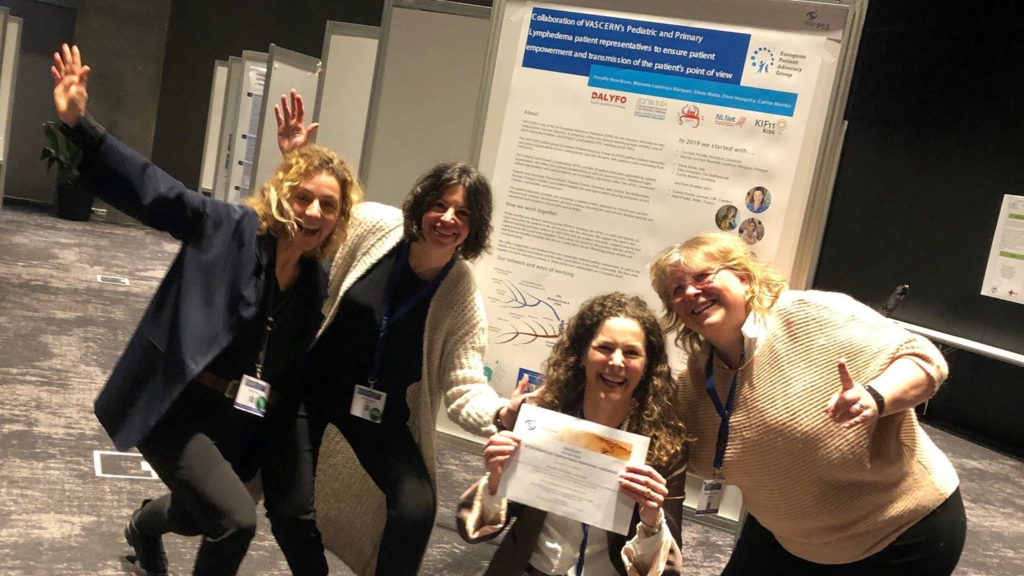 Other notable posters by PPL ePAGs included:
Patient associations across Europe unite to co-sign a manifesto by Elena Matta, Manuela Lourenço Marques, Carina Mainka, Eline Hoogstra, Margareta Haag, Alain Pradel, Francesco Forestiere, Gaynor Leech, Karen Friett, Mari Luz Merlos Rodríguez, Zuriñe Blasco Etxeguren, Imma Acedo, Piot – de Villars Eleonore, Joan Meskell, Maria Siby, Chiara Giovannucci Orlandi, Sara Alfthan, Niels Høegh, Ana Navarri, Pernille Henriksen
A survey assesses the Danish patient's perspective and satisfaction of the prescription process for compression garments by Pernille Henriksen, Lene Tofteng Hansen, Vanessa Niknazmanesh, Susanne Randers Præstholm, Christine Nielsen, Helle Thrane Pagh, Lene Niknazmanesh
Supporting families with children with primary lymphoedema in Scandinavia – a collaboration among patient associations by Margareta Haag, Niels Høegh, Pernille Henriksen
Uncovering the patient journey for Dutch patients with primary lymphedema by Eline Hoogstra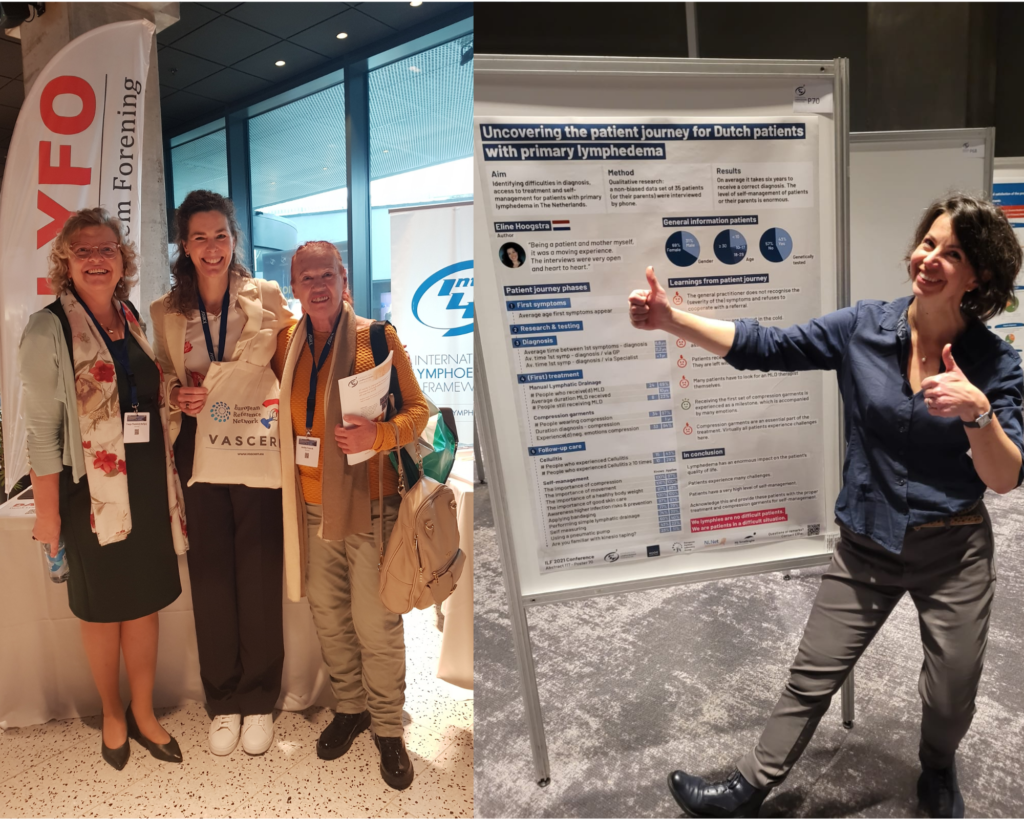 Other notable posters by our PPL WG healthcare professionals included:
The inter-rater reliability of the Near-InfraRed Fluorescence Lymphatic Imaging to evaluate the lymphatic system of the upper limb: An observational study by Sarah Thomis, Tessa de Vrieze, Nele Devoogdt, Melissa Helberg, Kleiman Jantine
Improvement of limb volumes after bariatric surgery in nine end stage primary and secondary lymphedema patients, a multiple case report by Ad Hendrickx, Robert J. Damstra
Discussion of the protocol of a multicentre pragmatic, randomised and controlled trial comparing reconstructive lymphatic surgery versus no surgery, additional to a conservative treatment of lymphoedema by Nele Devoogdt, Sarah Thomis, Katarina Segers, Tessa de Vrieze, Randon Caren, Chris Monten, Koen Van Landuyt, Bernard Depypere, Liesl De Graeve, Thierry Deltombe, Aline Berners, Maxime Servaes, Philippe Fosseprez
Finally, on Sunday 21st the Nordic patient associations (all part of the PPL ePAG community) took the opportunity to hold their biannual meeting, further strengthening their collaboration and working on dedicated projects to raise awareness of lymphedema, patient advocacy and more. In participation was Dalyfo, SOF, NLLF, Krabbameinsfelagið, and Suomen lymfayhdistys (online).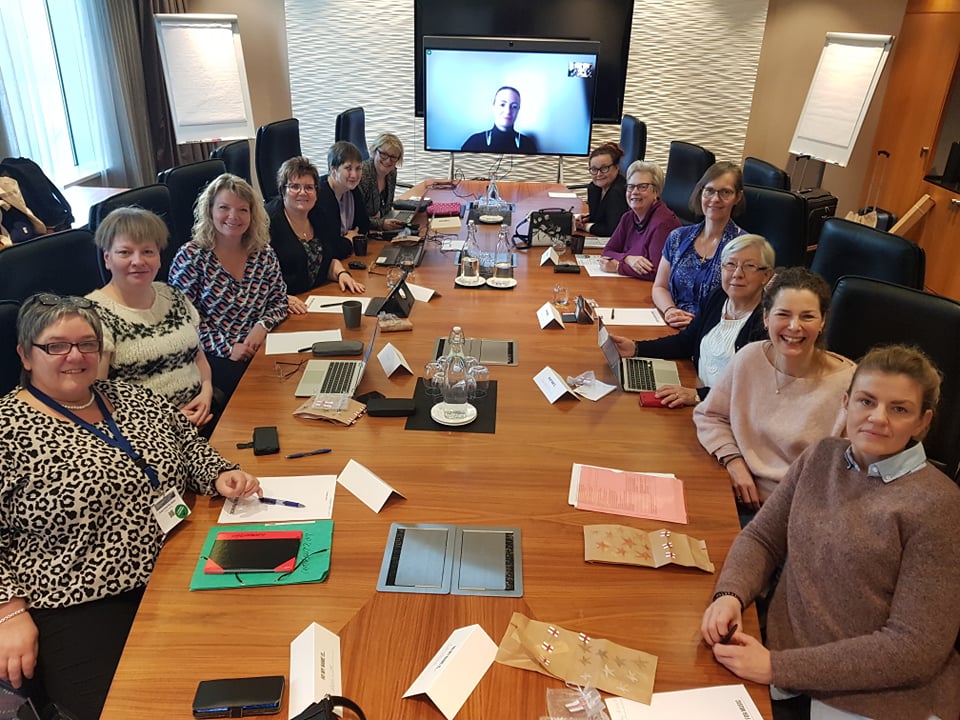 We congratulate the PPL ePAG patient advocates and community as well as healthcare professionals of the PPL (and VASCA) WG for spreading the word about VASCERN and its outputs at this international event and for all of their hard work for the lymphedema community!
See the full programme from the ILF Conference 2021 here
See the full poster list from the ILF Conference 2021 here