We would like to congratulate Professor Miikka Vikkula, our Vascular Anomalies Working Group (VASCA-WG) Chair, for being awarded the first Generet Award, with a prize of €500,000 for research into rare diseases!
The Generet Fund, managed by the King Baudouin Foundation, aims to support rare disease research by awarding an annual scientific prize worth €500,000 to a top researcher in Belgium involved in research focusing on either a specific rare disease or aimed at seeking an understanding of the mechanisms involved in various rare conditions. Yesterday, Prof. Vikkula was bestowed with this prestigious award in "recognition of his research, stretching back almost 20 years now, into the genetic explanation of vascular anomalies."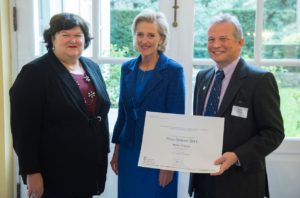 Read the official press release in from The King Baudouin Foundation in English, French or Dutch.
To learn more about this prize and why Prof. Vikkula was selected, you can watch the video (in French and Dutch) about the 2018 Generet Award here (teaser version of video here)
We are very happy that Prof. Vikkula has been recognized for all of the hard work he does to improve the lives of patients with vascular anomalies and we look forward to seeing how his research group at de Duve Institute – UC Louvain (working with the Centre for Vascular anomalies of the Cliniques universitaires Saint-Luc) will continue to further uncover the genetic causes of vascular anomalies and develop novel treatments for patients with this group of rare diseases.
Read more about Prof. Vikkula in his VASCERN Spotlights article here