The European Patient Advocacy Group (ePAG) for Pediatric and Primary Lymphedema (PPL) has another new patient advocate on board: Carina Mainka from Germany!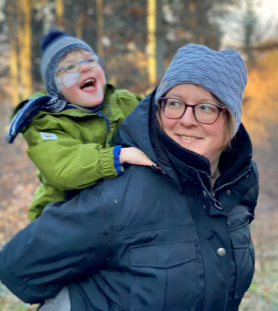 Carina represents the patient association KIF11 Kids that supports children with KIF11 mutations and their parents.
Here's what she has to say:
"Our little son Paul, born in 2016, was the best thing that ever happened to us and he brings so much love in our house. Paul has one of the rare mutations in the KIF11 gene, leading to primary lymphedema and intestinal lymphangiectasia. We felt totally lost at the beginning as everybody seemed overwhelmed, especially with his feet. We learned quickly that we needed to be the best advocates for our son and that we could do even more to help other KIF11 kids – so we founded the association KIF11 Kids e.V. As parents we have learned everything regarding lymphedema and how to treat it, without knowing and understanding the pain he feels. The self-treatment is a big challenge for parents as long as kids are non-verbal. Joining VASCERN is an honour – I provide my support, from a parents point of view, and would love to help other parents so that they can best manage their child's lymphedema."
A very warm welcome to Carina!
To see the full list of VASCERN ePAG members for the PPL click here.