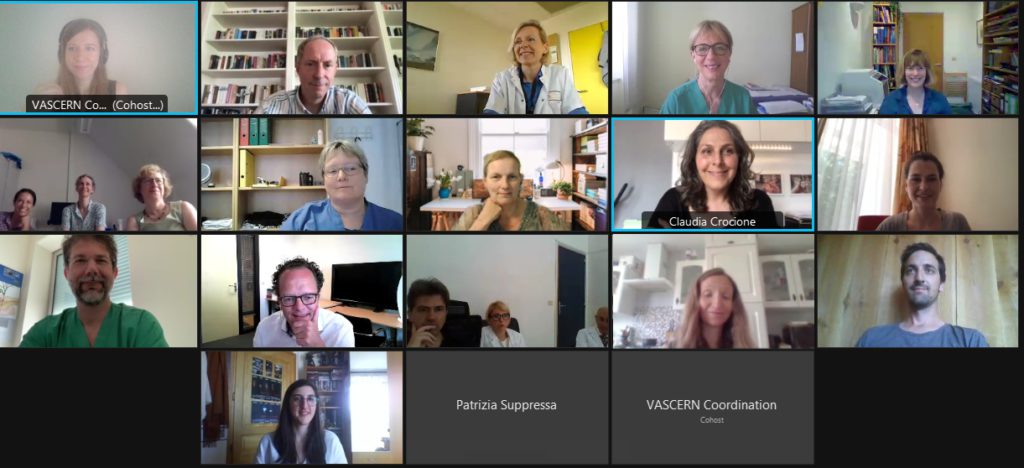 The Hereditary Haemorrhagic Telangiectasia Working Group (HHT-WG) held their Spring meeting on Friday June 18th, 2021.
Chaired by Professor Sophie Dupuis Girod, it was attended by 16 Healthcare Professionals from 5 countries and ePAG Co-Chair and Deputy Co-Chair, Claudia Crocione and Christina Grabowski. Former HHT WG Chair, Professor Claire Shovlin, also joined the group for this meeting.
To start, the group discussed COVID-19 consequences and how the pandemic had affected the functioning of the HHT expert centers: all reported significant decreases in the numbers of new patients seen since March 2020 and many are still not back to normal functioning. Claudia Crocione (ePAG Co-Chair for HHT) also reported on the HHT patients needs patterns witnessed from March 2020 until now. Notably, requests from the patient community increased by up to 300% during the pandemic and a Rare Barometer Voices Survey revealed that access to HHT care had indeed been impacted during this period of time (e.g. cancelled surgeries, follow-ups and lab tests reported in over half of respondents).
Next up, members from Denmark (Odense University Hospital) presented their results from a retrospective cohort study on the 5 outcome measures identified in the European Reference Network For Rare Vascular Diseases (VASCERN) Outcome Measures For Hereditary Haemorrhagic Telangiectasia (HHT). This was followed by French members (Hospices civils de Lyon) presenting their experience of cerebral arteriovenous malformations (AVMs) complications and screening in HHT patients, which garnered many thoughtful questions.
After a quick coffee break, the group then went on to talk about the two manuscripts that they will be submitting to the European Journal Of Medical Genetics (EJMG), including one about how the HHT WG of VASCERN has impacted HHT patient care in Europe.
Following the success of their first VASCERN webinar: HHT and the lungs, the group brainstormed future webinar topics as well as the possibility of online meetings where patients can interact with the clinicians on a certain topic related to HHT. The group looks forward to starting more of these educational events after the summer. The meeting ended with a clinicians-only discussion involving the complex case of a Dutch patient.
Well done to all members of the HHT WG for their hard work! Despite the many challenges reported since the start of the COVID-19 pandemic, the group continues to produce valuable outcomes for the HHT community, with new ones planned before the end of the year.