The full conference report of the 4th conference on European Reference Networks (that took place November 21-22nd, 2018 in Brussels, Belgium) has been released by the European Commission.
This comprehensive report outlines the main topics discussed during the 5 round table and 8 parallel sessions that took place during the two day event. It also highlights some of the most memorable moments from the event, including Commissioner for Health and Food Safety Vytenis Andriukaitis' speech, where he stated: "Expertise is being shared, developed, and expanded across Europe – increasing the capacity of specialists and health care and cure systems. We have to believe in our success and continue to work in our cooperative spirit."
Read the full report here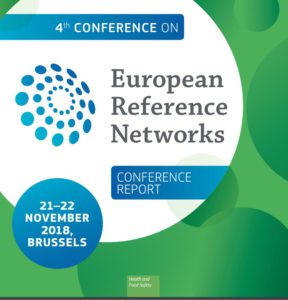 "The conference will help to set priorities for the year ahead which will include consolidation of the networks, integration within health systems, improving geographic coverage, further enhancing the CPMS, advancing monitoring and quality improvement, and enhancing communication with all stakeholders."
In addition to the conference report, all of the 39 exhibition posters that were displayed during the conference (including 2 from VASCERN), along with the plenary and parallel session presentation slides and videos, can now be found on the European Commission's page for the event, here.