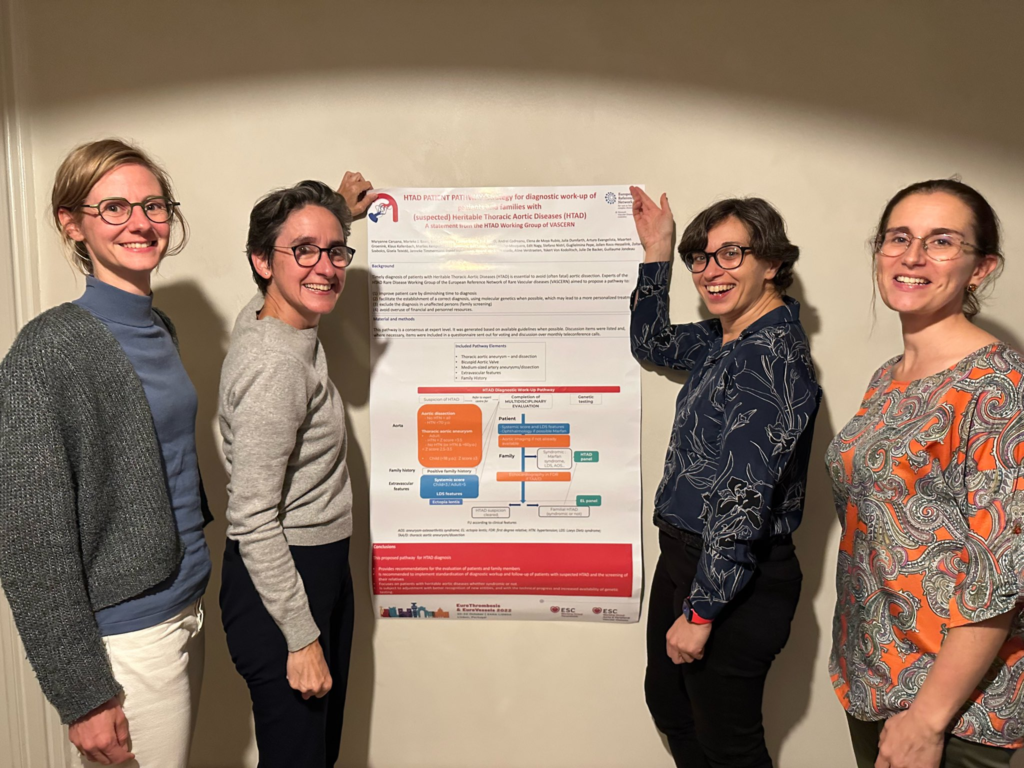 In this VASCERN Exchange Program interview, we are thrilled to interview Dr. Maryanne Caruana from Mater Dei Hospital in Msida, Malta. Dr. Maryanne Caruana is a member of the Heritable Thoracic Aortic Disease (HTAD). In this article, she shares what her goals were for the exchange program, and the lessons learned during it. This exchange program was done at the Ghent University Hospital in Ghent, Belgium with Prof. Julie De Backer.
1) What is your medical specialty
I am an adult cardiologist who treats patients with congenital heart disease as well as aortic diseases such as heritable thoracic aortic disease.
2) What were your goals and expectations for the exchange program?
I wanted to have a close-up look at how a clinic with a high volume of patients with heritable thoracic aortic diseases handles these patients from the early stages of diagnosis, including genetic testing, to long-term follow-up and surveillance.
3) What activities did you participate in during your exchange program?
I had the opportunity to work with Prof. Julie de Backer and Dr. Laura Muiño Mosquera in their clinics. I was able to observe the follow-up of adults with aortic diseases, as well as some paediatric patients with Marfan syndrome. I also attended cardiac genetic clinics where I was able to join the genetic counsellors there. They were doing consultation for some patients from scratch, taking a very detailed family history, putting together a pedigree, and then deciding which genetic testing to be undertaken. They were also consulting with patients who came back for the genetics results having had genetic testing sometime before.
Aside from that, I was given the opportunity to visit Dr. Patrick Sips's laboratories to check out the zebrafish and mouse model facilities, as well as seeing some of the molecular work that is done behind the scenes. We worked on a poster that is the result of our work as a working group on a first patient pathway. This pathway is intended to speed up the referral of patients to an aortic center when there is a high suspicion of heritable thoracic aortic disease. It was a really productive week.
4) Were there any challenges you faced during the program? If yes, what were they?
Nothing specific. Many patients found it more comfortable to speak in Flemish or Dutch during their consultations, but a few others were gracious enough to switch to English to ensure that I could follow the conversation. However, even when the consultation was not carried out in English, I still received a summary of it by the clinicians or genetic counsellors I was sitting in clinic with.
5) What is something new that you learned/discovered during your exchange program?
I really appreciated being able to discuss with Laura and Julie so frequently throughout the week, especially in a field where there is not always a lot of certainty. For example, we discussed how frequently to follow up patients with certain aortic conditions or how to manage patients with variants thought not to be of relevance. These conversations were productive. This experience will surely influence how I work e.g. revising the frequency of follow-up of certain patients. In the end, there are many ways in which my week in Ghent is likely to change my practice.
6) How will your experience from the exchange program improve your contributions to VASCERN?
After spending a week intensively focusing on a heritable thoracic aortic disease, you appreciate the work we are trying to accomplish and push forward all of the many projects that we are working on.
7) How would you describe your exchange program in one word?
"Fruitful"
8) Any other comments?
This is a fantastic opportunity provided by the EU for European reference networks. It would be fantastic if more people could benefit from this. The evidence available on rare diseases is scarce. It is great to have the opportunity to visit other centers to observe how they operate and exchange knowledge in this way. The organization was excellent, from the people who organized the entire exchange to the people in Ghent who arranged the schedule for me to ensure I got a taste of everything.