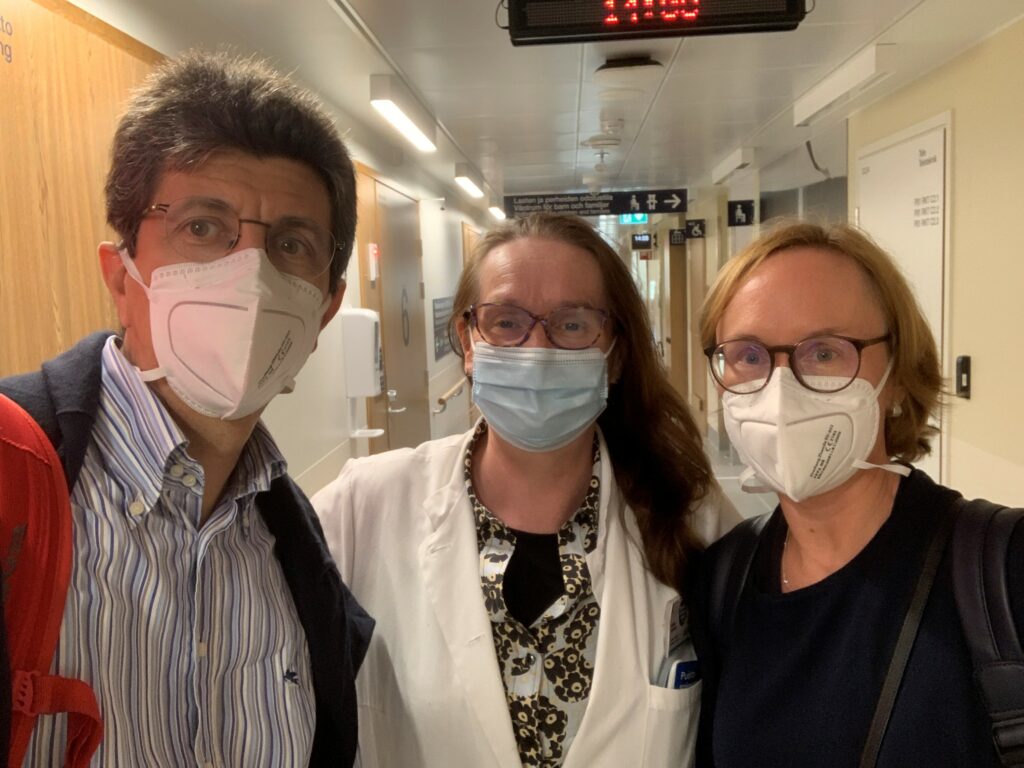 In this VASCERN Exchange Program interview, we are thrilled to interview Dr. Guido Giacalone and Dr. Florence Belva from the AZ Sint-Maarten, Mechelen, Belgium. Dr. Guido Giacalone and Dr. Florence Belva are members of the Pediatric and Primary Lymphedema Working Group (PPL-WG). In this article, they share what were their goals for the exchange program, and the new discovery and lessons learned during it. This exchange program was done at the Helsinki University Hospital in Helsinki, Finland with Prof. Sinikka Suominen.
1) What is your medical specialty?
Dr. Florence Belva is a Pediatrician and Dr. Guido Giacalone is a Vascular Surgeon, specialized in lymphatic surgery.
2) What were your goals and expectations for the exchange program?
The goal was to share best practices and expertise while observing how other expert centers treated patients with lymphedema. It was also an opportunity to learn how to use specific equipment accessible at the Helsinki University Hospital and to share how we use our equipment for treatment at our hospital.
3) What activities did you participate in during your exchange program?
We took part in complex case presentations, and live consultations followed by internal discussions. We were allowed to take part in surgical procedures to see how these surgeries for lymphedema patients are carried out. We were asked to show how, in the pre-operative stage of the surgeries we conduct, we would get a patient prepared for surgery. You can only gain this knowledge by hands-on experience; it cannot be found in a book or presented at a seminar.
4) Were there any challenges you faced during the program? If yes, what were they?
We did not experience any major challenge. The program was well-organized. It has been difficult to either schedule patients since Covid-19 or over the holidays because they are on holiday or have Covid-19. As a result, the exchange program could only be planned one week in advance, giving little time to make preparations for the exchange visit. The paperwork instructions were quite clear, and the Helsinki University Hospital responded quickly to our requests. We are used to exchange program procedures being slow, but this one was fast and efficient, which meant we had no issues.
5) What is something new that you learned/discovered during your exchange program?
For the majority of the patient cases, we agreed on whether or not to perform surgery. We have the same indications, but the specifics of how we work vary from center to center. These specifics are crucial for a successful patient outcome. For example, the difference in procedure between how they perform surgery and how we perform surgery. They also took us around the hospital to understand the stages in patient treatment and care and asked us what we would do differently at our hospital. These specifics can be overlooked if it was discussed virtually, but it is easier to recognize all the specifics in person. The patients were grateful that we were there to observe and share our expertise. It was a far more positive experience than we had anticipated. We went to a lot of coordinating services at the hospital, and everyone was curious about what we were doing and how we would do certain procedures. There was a lot of interest from the healthcare professionals at the hospital.
6) How will your experience from the exchange program improve your contributions to VASCERN?
The exchange program will help us a lot. We gained knowledge that can be easily transferred to the care of patients. Sharing this knowledge with other VASCERN PPL group members will be beneficial as well because we have first-hand experience. We can confidently tell others that we have done this surgery and seen how patients were recovering. It reinforces the ideas we already have and makes it easier to convince other doctors. Even though our hospital and the Helsinki University Hospital are well advanced in diagnosis and lymphatic surgeries, we still found it to be a great experience. Some centers are unfamiliar with lymphatic surgeries; this exchange program will provide them with an excellent opportunity to develop and learn new surgical procedures.
7) How would you describe your exchange program in one word?
"Excellent"
8) Any other comments?
A big thank you to Treasure and Yaël for their tremendous effort to make this a very positive experience!