World Lymphedema Day (WLD) took place on March 6th, 2020 and the patient organisations and patient advocates for Pediatric and Primary Lymphedema (PPL) of VASCERN's European Patient Advocacy Group (ePAG) were in full force raising awareness for lymphedema at this international event!
To start, they accomplished something unheard of until now: they managed to connect 23 European patient associations by co-signing a manifesto that the PPL ePAG group created, based on an original idea from Spain. The manifesto has now been translated into various languages (English, Portuguese German, Italian, Dutch. Danish, Spanish, Swedish, French, and Norwegian) and outlines the needs of those who live with, or who are at risk of developing, lymphedema.
Here is a look at some of the activities that were held all across Europe:
In Portugal, Manuela Lourenço Marques, our ePAG Deputy Co-Chair for PPL, participated in three events. One was with a poster displaying the collaborative work of ANDLymph/ National Association of Sufferers of Lymphatic Disorders at Hospital de Santa Maria, in Lisbon, where Manuela talked with patients and clinicians about lymphedema. In Leiria and Lisbon, ANDLymph, spearheaded by Manuela, encouraged patients to participate in Nordic walking (which takes place every Saturday morning), which is a collaboration with ESDRM, the largest sports school in Portugal's Polytechnic Education. More than 2000 e-mails, that included the World Lymphedema Day Manifesto, were send out to contacts and members and via social media platforms more than 3000 people were reached – even as far as Brazil and Mozambique!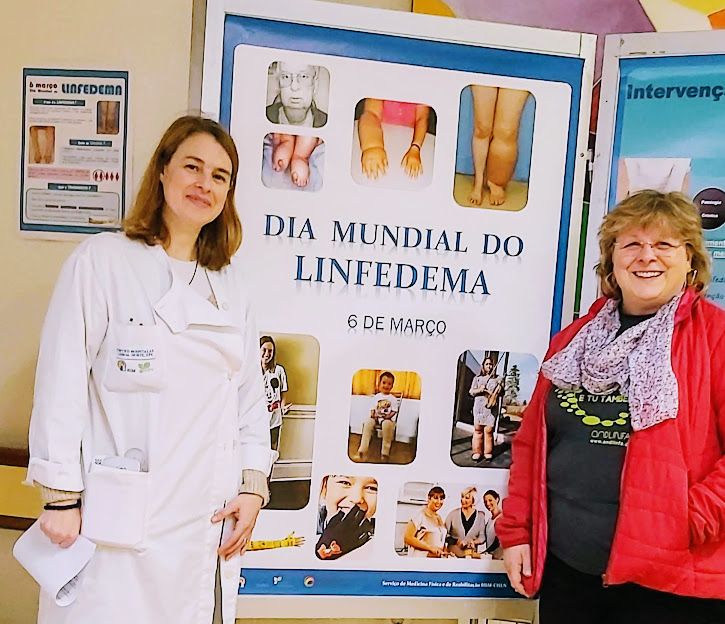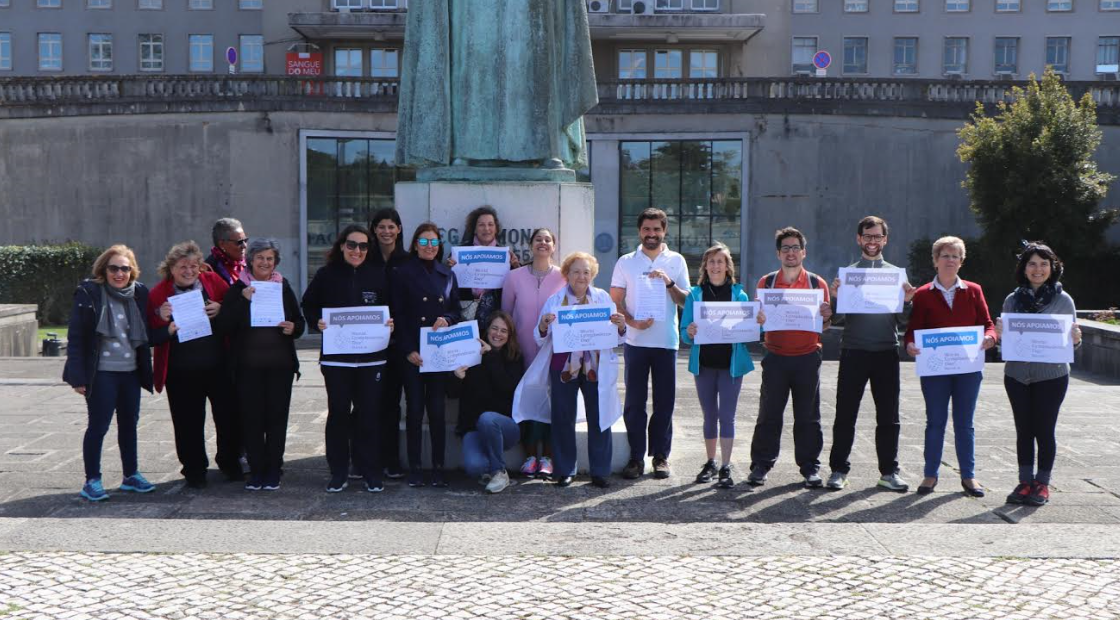 In Galicia and other regions of Spain, information tables on lymphedema were set up in major hospitals, including the University Clinic Hospital of Santiago, by Asociación Galega de Linfedema, Lipedema, Insuficiencia Venosa Crónica y otras Patologías Vasculares Periféricas (AGL). Pictured below, Juan Lameiro (second from left) with an AGL Board Member and the general managers of the hospital as well as two doctors from the lymphedema service. The Spanish version of the manifesto was shared on all social media platforms of Spanish associations and a small video was compiled with a positive message of support for the day with the boards of the associations.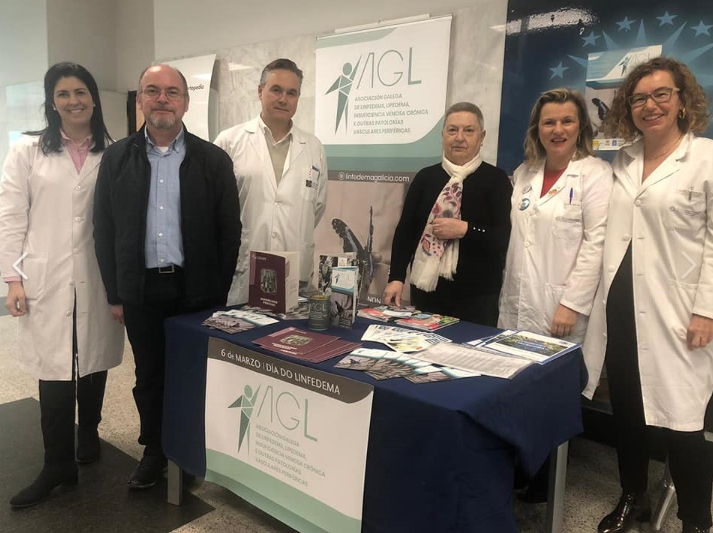 In Denmark, Pernille Henriksen, ePAG Co-Chair for PPL, worked on raising awareness of the day itself with patients and encouraging them to get involved. Before WLD, an article was printed in the Danish patient organisation for lymphedema (DALYFO)'s newsletter and a whole page and news sections on their website was dedicated on how to celebrate the day. On social media, information was shared and the Danish manifesto reached over 2800 people via Facebook. Pernille participated in a 5 km virtual walk with other patients from around the world (including Elena Matta, Italian ePAG). A few Danish patients "came out" on their social media profiles for the first time to talk about living with lymphedema. And a local, very active, fraction of DALYFO in the region of Lolland-Falster met for a "Lymphedema cafe", pictured below.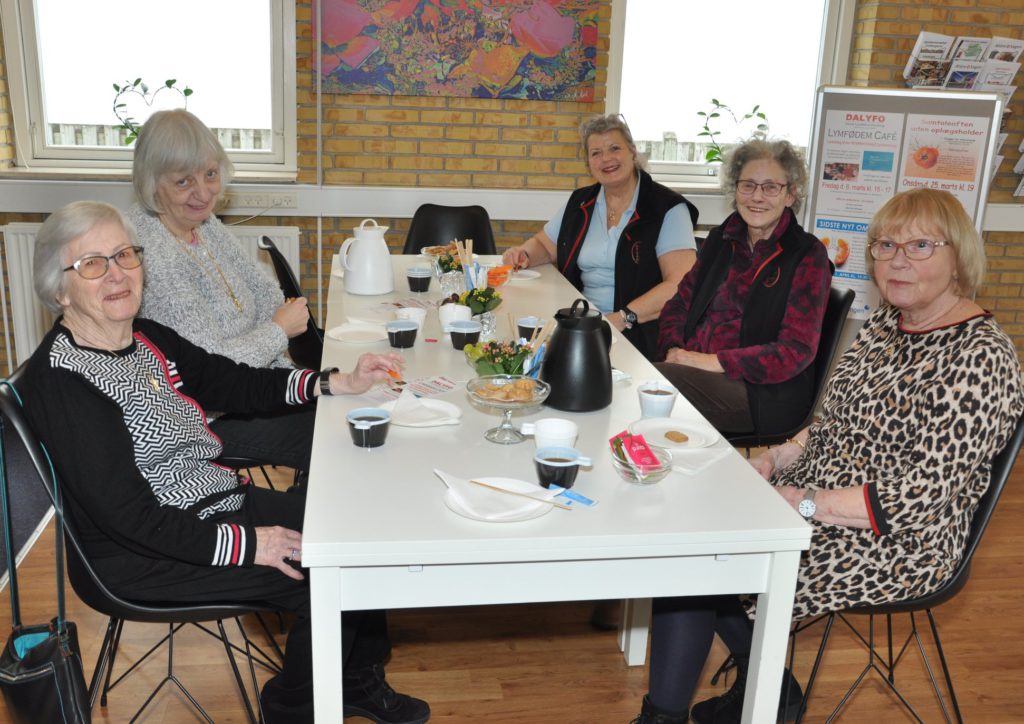 In Italy all events were cancelled due to COVID-19, however Elena Matta from Lymphido ONLUS participated in a 10km virtual run with fellow patient advocates, including ePAG Co-Chair for PPL, Pernille Henriksen. She also diffused the Italian, English and German manifesto in Berlin in two active churches and talked with the parish (who held a holy mass for patients with lymphedema in the world), as well as displayed it at local pharmacies, shops, and bars. Social media activity was buzzing with posts of the manifesto and personal posts/stories by Elena. Francesca, a 10 year old girl with primary lymphedema of the leg, made sure her Barbie was supporting World Lymphedema Day with compression on as well (see picture below).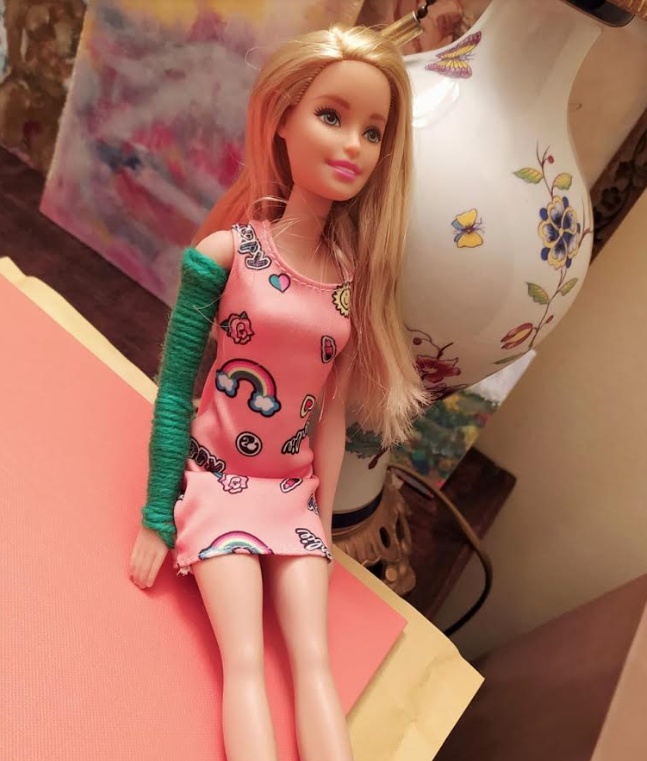 In a beautiful display of solidarity, the light house in Genova was lit up in teal (the colour of lymphedema) thanks to an initiative organised by the Canadian patient advocate Steve Kelland from Lymphedema – LE Nexus Canada (see picture below).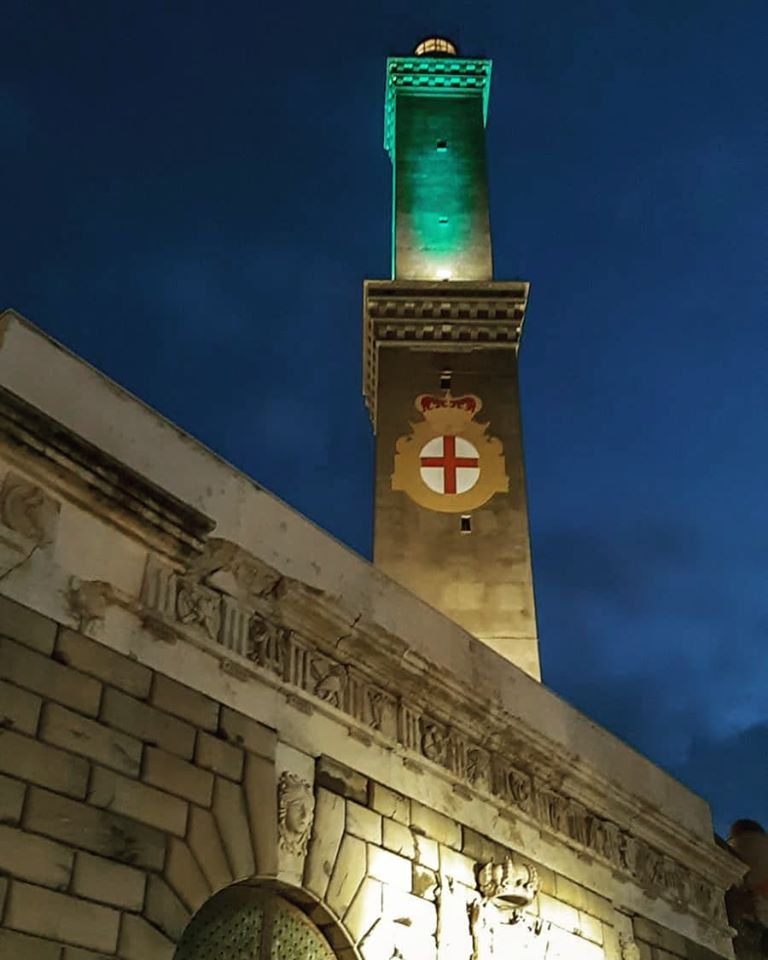 In the Netherlands, patient advocate Eline Hoogstra organised social media activities, and shared the manifesto on her own LinkedIn profile which garnered more than 1000 views. NlNet shared WLD content, including the manifesto in the days leading up to WLD. A small video was created for the English version of the manifesto by Pascal Dutour Geerling, who is a patient with primary lymphedema and member of Nlnet, which was viewed by thousands of patients and clinicians in the world as it spread via all the social media profiles of both patients and patient associations. Watch the manifesto video in English here.
A video in Dutch, also made by Pascal, was seen by more than 18.000 people while the Dutch manifesto was shared more than 70 times on the Facebook page of Nlnet alone. Many Dutch patient advocates shared their personal stories, as did Ingrid from her "Lymfoedeem en sporten" blog, pictured below.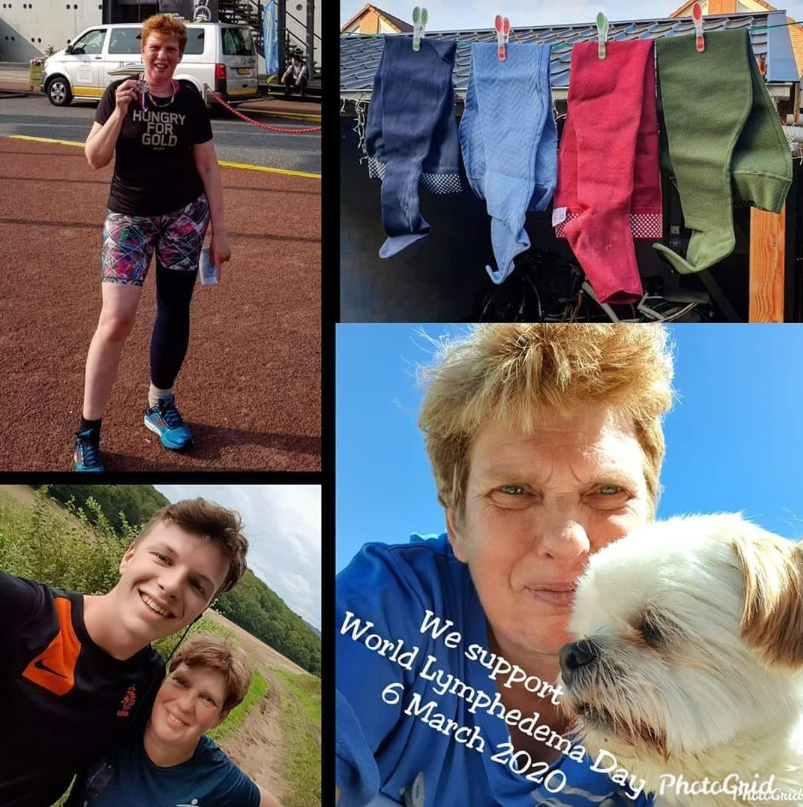 In France, Association Vivre Mieux le Lymphoedème (AVML) organised flashmobs in many major cities including Nancy (pictured below), Marseille, Lyon and Montpellier. There was also an Awareness day at the School of physiotherapy of Strasbourg. Other activities organised included Nordic walks, podcasts and flyer distribution to raise awareness of lymphedema. In Montpellier passers-by were asked the following question: do you know what lymphedema is? The results highlighted the need to raise awareness for this condition, as of the 502 people interviewed, 73% did not know what it was.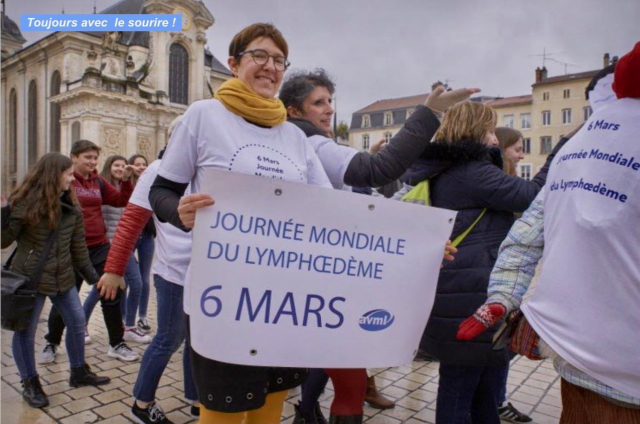 In Sweden, Svenska Ödemförbundet – SÖF had articles published both online and in a Swedish newspaper and shared the manifesto online. They equally shared VASCERN's Pill of Knowledge: Compression in Pediatric and Primary Lymphedema on their social media channels!
Finally, in Germany, Carine Mainka from KIF11 Kids e.V. , shared a message from her son Paul (first photo below) and another boy with KIF11, Xavi (second photo below), to raise awareness:
"My name is Paul and I am 3 years old. I am proud to be a #KIF11BUDDY. KIF11 is a very rare disease causing primary lymphedema. Yes! Also young people can be affected by lymphedema. I will live with this my whole life and I will stick to my diet due to intestinal lymphangiectasia as there is no cure yet. Why do my parents raise awareness by supporting the World Lymphedema Day 2020? Because it is my future!"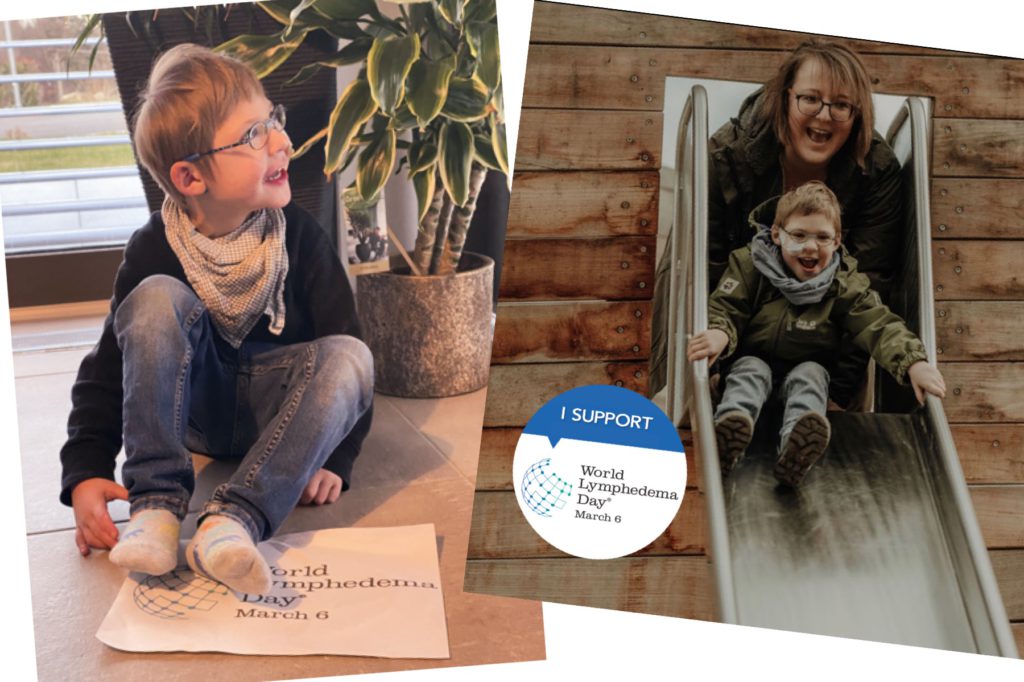 "My name is Xavi and I am 6 years old. I am 1 out of 10 known #KIF11BUDDIES in Germany. A mutation on the KIF11 gene is one of the rare diseases known worldwide. I was born with Primary lymphedema and diagnosed with intestinal lymphangiectasia. That's why my parents fight for more awareness today!"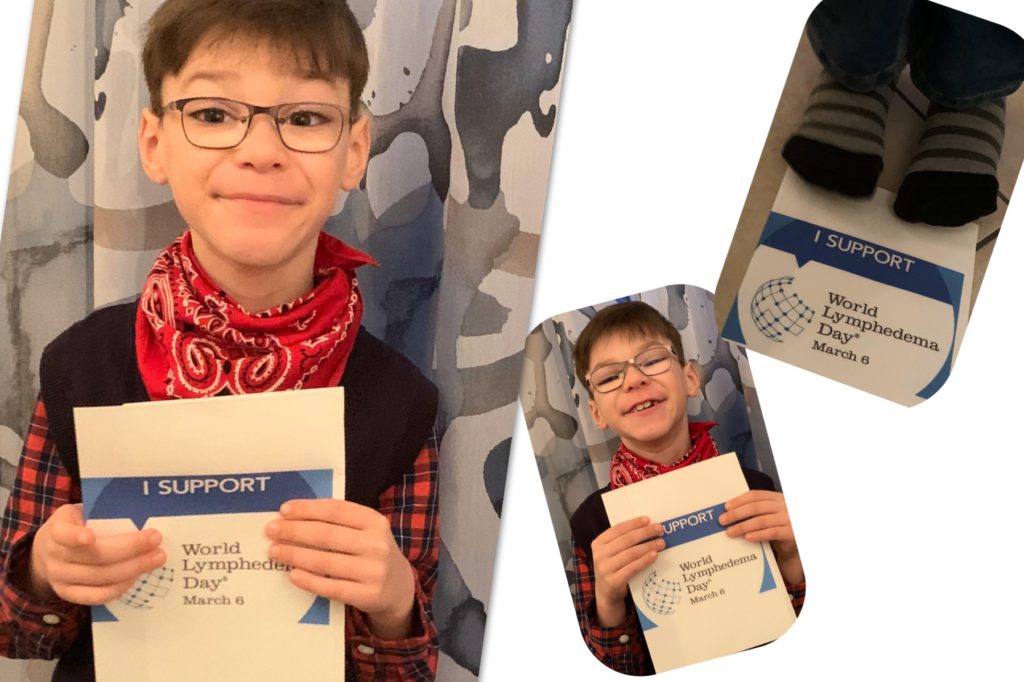 We would like to
thank the PPL associations and patient advocates of the VASCERN ePAG for all of
their incredible work for World Lymphedema Day and for finding a way to spread
the word about lymphedema despite the challenges this year that many faced.
For more information on World Lymphedema Day, please visit the event website here.