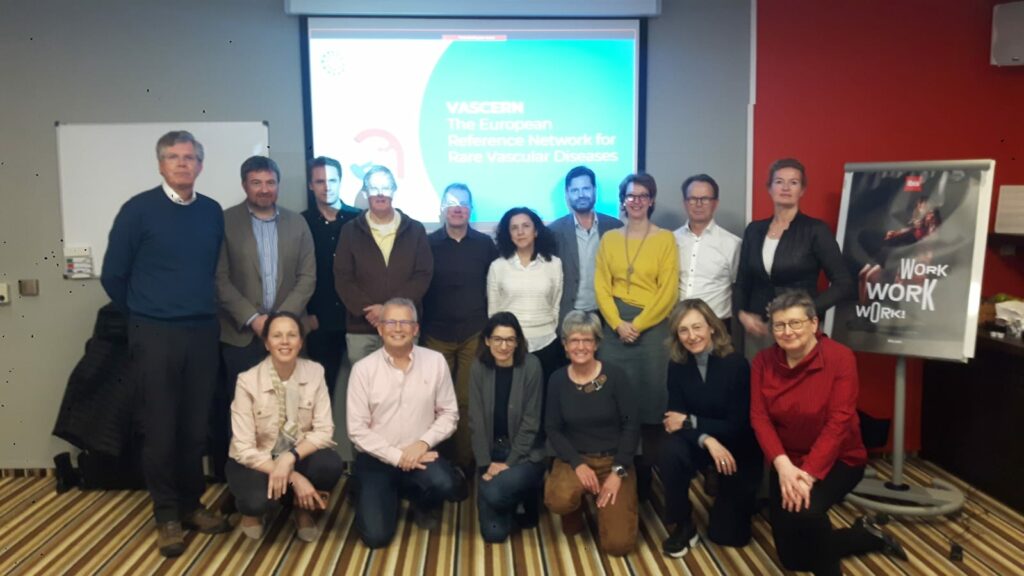 The annual Spring Meeting of the Vascular Anomalies Working Group (VASCA-WG) took place in Brussels on April 6th, 2022. It was chaired by Prof. Miikka Vikkula (VASCA-WG Chair) and Professor Leo Schultze Kool (VASCA-WG Co-Chair), and attended by 17 healthcare professionals, including Caroline van den Bosch, Co-Chair of the European Patient Advocacy Group (ePAG) for VASCA, and Lex Van der Heijden, another patient advocate.
This all-day meeting began with a presentation by new VASCA members attending their first Spring meeting. Following that, the VASCERN project manager provided updates on the new funding grant, the Clinical Patient Management System (CPMS), new persons to be hired, and evaluation of ERNs and HCPs. The group then discussed Sub Working Group guidelines, confidentiality documents, pending journal publications, and Do's and Don't's.
The group talked about planned webinars and a recent webinar on patient pathways, which is available here. More patient pathway webinars are being developed by the group that will be available in several languages and intended for both patients and doctors. Similarly, the usage of consent forms for webinars or Pills of Knowledge videos was discussed.
Finally, they talked about the VASCERN VASCA poster that would be presented at the ISSVA Conference. There were additional updates on clinical trials, VASCA Magazine 2nd Edition, and : and the VASCA registry by the Chair of the Registry WG, Professor Leo Schultze Kool, and the VASCERN data steward Pim Kamerling. The Spring Meeting came to a close with a general discussion (suggestions for improvement, collaborations, goals).
The VASCA WG members were able to meet again in person for a very productive meeting. New outputs from the group are on the way!